Total Production of NIKKOR Lenses for Nikon SLR Cameras Reaches Fifty Million
September 9, 2009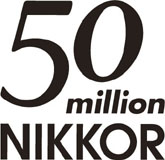 Nikon Corporation (Michio Kariya, President) is pleased to announce that as of August 2009 total production of NIKKOR lenses, interchangeable lenses for Nikon SLR cameras, reached fifty million. Total production of NIKKOR lenses reached forty-five million in August 2008 with production of an additional five million over the past year.
Nikon (then Nippon Kogaku K.K.) released its first NIKKOR lens for Nikon SLR cameras, the NIKKOR-S Auto 5cm f/2, in 1959 along with its first SLR camera, the Nikon F. In the fifty years since then, NIKKOR lenses have been extremely well received by a great number of photo enthusiasts and professional photographers.
The current lineup of more than sixty NIKKOR lenses for Nikon SLR cameras offers a wide variety of lenses, including fisheye lenses, super wide-angle to super telephoto lenses and micro lenses.
The NIKKOR brand
As the brand name for Nikon lenses, NIKKOR has become synonymous with high-performance, high-quality SLR lenses. The NIKKOR name comes from adding "R"—a common practice in the naming of photographic lenses at that time—to "Nikko", the Romanized abbreviation for Nippon Kogaku K.K. In 1933, the large-format lens for aerial photography was released with the name Aero-Nikkor, making last year the 75th anniversary of the NIKKOR brand.
The information is current as of the date of publication. It is subject to change without notice.