Digital-SLR camera Nikon D3100
August 19, 2010
An entry level digital-SLR camera with a new CMOS image sensor, image-processing engine and helpful Guide mode that makes capturing beautiful images easy
TOKYO – Nikon Corporation is pleased to announce the release of the Nikon D3100, an entry level Nikon DX-format digital-SLR camera. The camera is equipped with a new CMOS image sensor developed by Nikon and a new image-processing engine that enable capture of high-definition images exhibiting superior image quality, and a Guide mode that allows users to capture images just as they intended.
The following lens kit will also be released.
D3100 and AF-S DX NIKKOR 18-55mm f/3.5-5.6G VR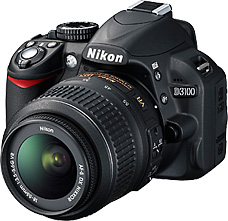 The number of people advancing from a compact digital camera to a digital-SLR camera for better quality images and a more authentic photography experience has been increasing in recent years. However, many have indicated that digital-SLR cameras are difficult to master. To respond to this concern of users advancing to a digital-SLR camera, Nikon began equipping its entry level digital-SLR cameras with a Guide mode that displays instructions for the most basic camera operations for shooting, image playback and editing and the application of camera settings, in the camera monitor. The first camera to be equipped with Guide mode was the Nikon D3000 released in August 2009. This function has proven to be very popular with users.
A new DX-format CMOS image sensor developed by Nikon and the new image-processing engine, EXPEED 2, have been adopted for the new D3100, enabling capture of images exhibiting excellent image quality and definition. The D3100 has also inherited Guide mode from the D3000, with the addition of more options and assist images that make the camera easier to understand and operate. The D3100 is also equipped with a live view function that allows the user to frame images in the monitor, and the D-Movie function that provides support for high-definition movie recording. While the D3100 offers authentic digital-SLR camera performance, it is also an extremely lightweight digital-SLR camera from which even beginners can expect beautiful images that accurately reflect their shooting intent.
D3100 primary features
1.A new DX-format CMOS image sensor and image-processing engine, EXPEED 2, both developed by Nikon enable capture of high-definition images with superior image quality
The D3100 is equipped with a new Nikon DX-format CMOS image sensor and a new image-processing engine, EXPEED 2, both developed by Nikon. The CMOS image sensor offers an effective pixel count of 14.2-million pixels (D3000: CCD image sensor with 10.2-million effective pixels) and enables capture of high-definition images exhibiting superior image quality with extremely detailed rendering and rich tones. The camera also makes the most of its standard sensitivity settings up to ISO 3200 (D3000: ISO 100–1600) and additional increases up to HI 2 (ISO 12800 equivalent), with shooting under dim lighting, such as in the evening or indoors, as well as with sports scenes of rapidly moving subjects.
EXPEED 2 is Nikon's new image-processing engine, developed by refining the concepts, know-how and technologies regarding digital images that Nikon has spent years cultivating. It maximizes the performance of the CMOS image sensor to suppress noise in still images and movies and produces images that faithfully reproduce vivid colors.
2.A refined Guide mode that is even easier to use
Guide mode has been refined to make most camera operations even easier, from shooting to image playback and editing to the application of camera settings, regardless of the user's skill level.
Assist images
The D3100 displays assist images that show the effect of various camera settings, giving users an idea of the results they can expect with specified settings. For example, when "Soften backgrounds" is selected and an aperture value is specified, the assist image displayed in the monitor changes to show the effect that aperture setting will have on images. This allows users to confirm that images will appear as they intended prior to shooting and reduces the number of unsuccessful shots.
Assist image sample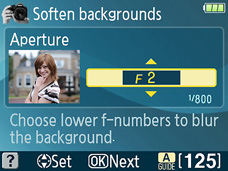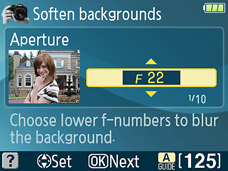 Other new functions built into Guide mode
1.

Selection from 3 shooting techniques: "Use the viewfinder," "Use live view," "Shoot movies"

2.

"Bring more into focus" and "Show water flowing" options have been added to the "Advanced operation" menu for shooting

3.

"Movie settings," "HDMI," "Flicker reduction" and "Eye-Fi upload"* options have been added to the "Set Up" menu for applying basic camera settings"

*:

Only available when compatible Eye-Fi memory card is inserted
3.Live view mode that allows users to use the camera monitor to easily frame still image or movies
By simply rotating the live view switch, the view through the lens is displayed in the monitor, enabling immediate live view recording. This makes shooting feel more like shooting with a compact digital camera, easing the transition to digital-SLR for beginners. In addition, various information such as the shooting mode, time remaining (movie mode) and battery indicator, can be shown in the live view display.
4.D-Movie for recording and editing full-HD movies and AF-F (full-time servo AF) focus mode for movie recording
The D3100 is equipped with the D-Movie function that enables recording of high-definition movies (with monaural sound) by simply pressing the movie-record button. Movies can be recorded with the same aperture and other settings applied in Guide mode, and movies that take full advantage of the characteristics of individual interchangeable lenses, whether wide-angle, telephoto or fisheye, can be recorded for movies that are only possible with a digital-SLR camera. In addition, the camera also offers an AF-F (full-time servo AF) focus mode for movie recording. When AF-F mode is enabled, the camera focuses continuously during movie recording without the need for holding the shutter-release button down halfway. The D3100 also offers in-camera movie editing functions that allow users to save a single frame as a still image or delete unnecessary portions from the beginning or end of movie files.
5.Scene auto selector built in
The D3100 is equipped with the scene auto selector function. When live view mode is enabled in Auto or Auto (flash off) mode, the camera automatically analyzes the scene and selects the appropriate shooting mode from Portrait, Landscape, Close up or Night portrait.*This function allows users achieve the intended images while leaving all settings up to the camera.
*:

Scene auto selector is disabled with manual focusing.
Other functions and features new to the D3100
Equipped with a face detection function capable of detecting up to 35 human faces (

D3000

D5000 : up to 5 faces (Revised on August 24, 2010))
Operation has been improved with the addition of an independent movie-record button and release-mode selector. In addition, the rubber grip provides a better fit.
Equipped with a Consumer Electronics Control (CEC) bus that enables remote control playback of images and movies recorded with the camera when the camera is connected to a high-definition TV
Equipped with a new exposure compensation algorithm for greater flexibility and performance with NEF (RAW) processing
The new ViewNX 2 software is bundled with the D3100
Nikon D3100 digital-SLR camera primary specifications
Type
Single-lens reflex digital camera
Lens mount
Nikon F mount (with AF contacts)
Effective pixels
14.2 million
Image sensor
23.1 x 15.4 mm CMOS sensor
Image size (pixels)
4,608 x 3,072 [L]
3,456 x 2,304 [M]
2,304 x 1,536 [S]
File format
1) NEF(RAW), 2)JPEG, 3)NEF(RAW)+JPEG
Media
SD (Secure Digital) memory cards *1, SDHC- and SDXC-compliant
Frame advance rate
Up to 3 fps *2
ISO sensitivity
ISO 100 to 3200 in steps of 1 EV; Can also be set to approx. 1 EV above ISO 3200 (ISO 6400 equivalent) or to approx. 2 EV above ISO 3200 (ISO 12800 equivalent); auto ISO sensitivity control available
Movie
Frame size (pixels) and frame rate: 1,920 x 1,080; 24 p - 1,280 x 720; 30 p - 1,280 x 720; 25 p - 1,280 x 720; 24 p - 640 x 424; 24 p
Maximum Recording Time:10 min.
File format/Video compression: MOV, H.264/MPEG-4 Advanced Video Cording
Audio recording device; Supported:monaural recording with built-in microphone.
LCD monitor
3-in., approx. 230 k-dot TFT LCD with brightness adjustment
Power source
Battery; One rechargeable Li-ion EN-EL14 battery
AC adapter(optional);EH-5a AC adapter; requires EP-5 power connector
Dimensions (approx.)
(W x H x D)
124 X 96 X 74.5mm
Weight (approx.)
455g without battery, memory card, or body cap,
505g;with battery and memory card but without body cap
Major supplied accessories
EN-EL14 rechargeable Li-ion battery, MH-24 battery charger, AN-DC3 camera strap, ViewNX 2 CD-ROM, Ferrite Core (2 types)
*1

Not applied to Multi Media Card

*2

manual focus, mode M or S, shutter speed 1/250 s or faster, and other settings at default values
Unless otherwise stated, all figures are for a camera with a fully-charged battery operating at an ambient temperature of 20 ° C (68 ° F).
Specifications and equipment are subject to change without any notice or obligation on the part of the manufacturer.
The information is current as of the date of publication. It is subject to change without notice.