Nikon Speedlight SB-700
September 15, 2010
A wide variety of functions with simple operation for digital-SLR camera users of any skill level
TOKYO – Nikon Corporation is pleased to announce the release of the Speedlight SB-700, a compact Speedlight offering multiple functions with simple operation in a compact size.
While the majority of digital-SLR cameras are equipped with a built-in flash, as these built-in flashes are only able to light a subject from one side and angle, user creativity and expression is strictly limited. External flash units are tools for increasing creativity by maximizing lighting possibilities. However, many users still find external flash units difficult to use and think of them only as a way to capture images of dark or dimly scenes.
So that even those inexperienced with external flash units may enjoy the benefits of more creative lighting, Nikon has developed the easy-to-use SB-700. The new SB-700 incorporates functions inherited from the SB-900, which has been so well received by professional and advanced amateur digital-SLR camera users, in a smaller size comparable to the SB-600. This makes the multi-functional SB-700 extremely easy to use, even for beginners. The SB-700 readily responds to the needs of Nikon digital-SLR camera users with a broad range of skills who want to increase their individual power of expression through photographs that make the most of light.
SB-700 primary features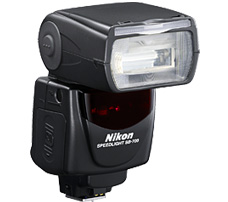 1. High-end model functions in a compact body
The SB-700 is equipped with wireless lighting capability, a feature that is indispensable to creative lighting. Until the SB-700, the SB-900 has been the only Speedlight equipped with a Master function*. However, a condensed form of this function has been built into the SB-700, which is also equipped with accessories such as a bounce card and a diffusion dome.
*

The Master function controls flash output from other Speedlights with multiple flash photography.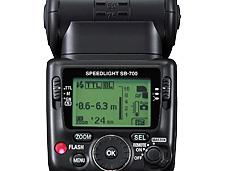 2. User interface with intuitive operation
A control layout and LCD panel design that make operating and applying settings simple, even for beginners, have been adopted. All settings can be applied in just three easy steps, and the LCD panel display is clear and easy to understand for intuitive operation.
3. Quick wireless control mode enables simple control of flash output for two remote flash groups
This is a new feature that allows the Master flash (SB-700) to control flash output levels for flash units assigned to two remote groups, making multiple flash photography setup simple.
4. A function that automatically detects and controls increases in the temperature of the flash head
The flash head is equipped with an internal temperature sensor that controls and suppresses significant increase in the temperature of the flash head that may occur in situations such as uninterrupted firing of the flash with wide-angle shooting to prevent damage to the flash panel.
5. Automatic detection and identification of dedicated hard color filters (fluorescent/incandescent) attached to the flash head
The color filters supplied with the SB-700 (fluorescent/incandescent) have been modified from the gel filters supplied with previous Speedlights to a hard type for greater durability, heat resistance, and ease of use. In addition, when one of these filters is attached to the flash head, the SB-700 automatically identifies it and transmits information to the camera for the optimal white balance setting.
Other SB-700 functions and features
High-speed recycling time (time required between flashes) of approximately 2.5 s*
A multi-position power zoom function that automatically adjusts the zoom head position according to the lens focal length. Focal lengths of 24-120mm are supported.
Three illumination patterns—Standard, Center-weighted, Even—to suit any scene
Automatic switching between FX and DX formats
Equipped with SU-4 type wireless multiple flash photography function so well received by professional and advanced amateur photographers. This enables wireless multiple flash photography suited to a variety of situations.
*

When NiMH or alkaline batteries are used.
SB-700 primary specifications
Guide number (at 35mm zoom head position,in FX format,standard illumination pattern,20°C/68°F)
28/92 (ISO 100, m/ft.), 39/128 (ISO 200, m/ft.)
Effective flash output distance range(in i-TTL mode)
0.6m to 20m (2 ft. to 66 ft.) :varies depending on camera's image area setting, illumination pattern, ISO sensitivity, zoom head position, and lens aperture in use)
Illumination pattern
There are three illumination patterns;standard,even and center-weighted
The light distribution angle is automatically adjusted to the camera's image area in both FX and DX formats.
Available flash mode

i-TTL
Manual flash
Distance-priority manual flash

Multiple flash-unit photography operation

Advanced Wireless Lighting
SU-4 type wireless multiple flash-unit photography (in remote mode)

Bounce capability
Flash head tilts down to 7° or up to 90° with click stops at -7° ,0° ,45° ,60° ,75° ,90°
Flash head rotates horizontally 180° to the left and right with click stops at 0°,30° ,60° ,75° ,90°, 120°, 150°, 180°
Power source
Use four AA-type batteries of the same brand from any of the following types:


1.5 V alkaline AA batteries
1.5 V lithium AA batteries
Rechargeable 1.2 V NiMH AA batteries

Dimensions (W x H x D)
Approx. 71 x 126 x 104.5mm
Weight
Approx. 360g (Speedlight only)
Approx. 450g (with four 1.5V alkaline AA batteries)
Accessories supplied
Speedlight Stand AS-22, Nikon Diffusion Dome SW-14H, Incandescent Filter SZ-3TN, Fluorescent Filter SZ-3FL, Soft Case SS-700
These performance specifications are applicable when fresh batteries are used at normal temperatures (20°C/68°F).
Specifications and design are subject to change without any notice.
*

Specifications, design, product name and supplied accessories may differ by country or area. Specifications and equipment are subject to change without any notice or obligation on the part of the manufacturer.
The information is current as of the date of publication. It is subject to change without notice.