Worldwide launch of the Nikon COOLPIX "Capture more. Feel more." brand site on September 30
September 30, 2010
Integrated collaboration with photo sharing sites Flickr and social networking and microblogging service Twitter
TOKYO – Nikon Corporation is pleased to announce the worldwide launch of the Nikon COOLPIX "Capture more. Feel more." brand site, developed to increase the value of the COOLPIX brand of compact digital cameras, on September 30.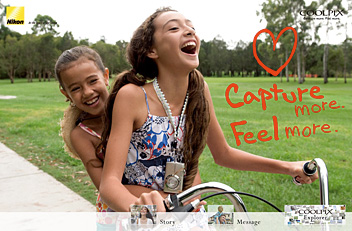 The new "Capture more. Feel more." brand site will feature a variety of contents and visuals representative of the "Capture more. Feel more." tagline used throughout the world to describe the value and concept behind COOLPIX-series digital cameras. Not only will the site introduce the COOLPIX brand message, but it will also offer integrated collaboration with Flickr and Twitter, allowing users throughout the world to experience and share the COOLPIX world view themselves.
Throughout its long history of developing and utilizing optical and other advanced technologies for use in the development and manufacture of products and services, Nikon has taken its role in the capture of special moments, regardless of the age or situation, very seriously. Nikon will continue to offer the means to record and share the moments that are special to individuals through flexible products and services for all users of digital cameras.
History of the COOLPIX series
The history of the COOLPIX series began in 1997 with the COOLPIX 100. The camera was slim enough to fit in a jacket pocket and was equipped with an innovative new PC card function that allowed the camera body itself to be connected directly to a computer for data transfer. Nikon has continued to lead the digital camera industry since then by developing and releasing models with revolutionary new features. The COOLPIX 900, released in 1998, offered a swivel design that allowed the lens portion to be rotated up to 270°. In 2005, Nikon released the COOLPIX 5900/7600/7900 with the revolutionary Face-priority AF (autofocus) function that automatically recognized faces with autofocusing and the COOLPIX P1, the world's first camera equipped with a wireless LAN communication function for transferring images over a wireless network. The COOLPIX S500, released in 2007, had the world's most compact body and also offered the fastest power-up and release time lag (at the time), and the COOLPIX S1000pj, released in 2009, was the world's first camera to be equipped with a compact projector.
With a total of 100 COOLPIX models released, Nikon continues its tradition of innovation in 2010 with the release of the COOLPIX S1100pj, the second COOLPIX camera to be equipped with a built-in projector, and the COOLPIX S5100 with a number of functions that enable the capture of beautiful nighttime shots. The COOLPIX brand continues to offer increases in basic camera performance as well as new and advanced digital technologies for new value and user benefits.
COOLPIX brand communication site overview
| | |
| --- | --- |
| Brand site name | Capture more. Feel more. |
| Site launch | September 30, 2010 |
| Languages | Japanese, English, French, German, Spanish, Portuguese, Simplified Chinese, Traditional Chinese |
Primary contents
1. Story
The "Capture more. Feel more." world view is expressed through text and images. As a number of types of images are displayed, the COOLPIX world view is expressed in an intuitive manner. The use of shutter and power-up sounds and effects, as well as background music, allows visitors to the site to experience the COOLPIX world view through multiple senses.
2. Message
"Capture more. Feel more." is expressed in a variety of forms. Visitors to the site can experience the "Capture more. Feel more." world view through a 90-second brand movie, as well as through "Snapshot by COOLPIX", a series of images expressing the special moments that occur every day.
3. COOLPIX Explorer
The world's largest photo sharing site, Flickr, currently contains roughly 155,000,000 images captured by COOLPIX cameras. Of these, approximately 40,000,000 are available with 1. Attribution, 2. Attribution Share Alike or 3. Attribution No Derivatives Creative Commons licenses. The "Create more. Feel more." site will introduce approximately 40,000 of those that best express the brand's world view. With COOLPIX Explorer, these images are displayed in random order, with new images automatically displayed every minute. In addition, visitors to the site who have a Twitter account can use COOLPIX Explorer to experience a new form of communication through photos by tweeting favorite photos to their followers. These features will promote the "Capture more. Feel more." concept by exhibiting the special moments that occur so many times every day.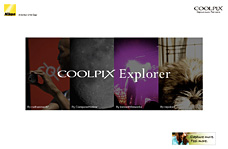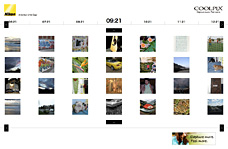 Images and movies from the site contents mentioned above can also be viewed full screen on an iPad or iPhone.
"Capture more. Feel more."
Each Day is filled with special moments that move your heart and soul.
And capturing those rousing emotions can make life so much more beautiful.
Great experiences, full of life.
With each shot a cherished one that's sure to move you even more.
*

Products, brand names and service names are trademarks or registered trademarks of their respective companies.

*

The information is current as of the date of publication. It is subject to change without notice.

*

Specifications, design, product name and supplied accessories may differ by country or area. Specifications and equipment are subject to change without any notice or obligation on the part of the manufacturer.
The information is current as of the date of publication. It is subject to change without notice.