Nikon COOLPIX S8000 Compact Digital Camera Recipient of DFA Merit Recognition
December 3, 2010
TOKYO – Nikon Corporation (Makoto Kimura, President) is pleased to announce that the COOLPIX S8000 compact digital camera is the recipient of a 2010 Design for Asia (DFA) Merit Recognition.
The DFA Awards are organized by the Hong Kong Design Centre with the purpose of raising awareness amongst businesses and the public about the value of good design as an essential component in business success, as well as for a sustainable, higher quality of life for all. This year's winners were selected from approximately 400 commercial products released in one or more Asian markets by manufacturers from the world over during a period of roughly two years and seven months—from January 1, 2008 to July 31, 2010. From these, winners were selected based on superiority of design, degree of impact on the Asian lifestyle, and commercial success.
As one of the winners for the DFA Award 2010, COOLPIX S8000 has exhibited at the HKTDC Inno Design Tech (IDT) Expo in Honk Kong on 2 - 4 December 2010.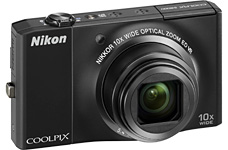 The DFA Merit Recognition winning Nikon COOLPIX S8000 (Released February 2010) offers an effective pixel count of 14.2-million pixels and is equipped with a 10x optical zoom NIKKOR lens that covers a broad range of focal lengths, beginning at the wide-angle 30mm (35mm format equivalent). The refined design makes it the thinnest camera in its class* with a depth of approximately 27.3 mm. The camera is also equipped with a creative slider function for adjusting the brightness, vividness and hue of pictures to be taken to suit individual preferences, as well as a 3-in., 921k-dot, wide viewing angle clear color panel TFT LCD monitor for crisp, vivid display. This stylish, high-power zoom camera will allow users to capture the moment and make the most of their individual creativity.
*

Among compact cameras equipped with an optical zoom lens capable of zooming in at 10x or more as of February 3, 2010 (according to research conducted by Nikon Corporation).
*

Specifications and equipment are subject to change without any notice or obligation on the part of the manufacturer.
The information is current as of the date of publication. It is subject to change without notice.