Nikon D3100 Digital-SLR Camera and COOLPIX S1100pj Compact Digital Camera Recipients of Germany's iF Product Design Awards
December 28, 2010
TOKYO – Nikon Corporation is pleased to announce that the Nikon D3100 digital-SLR camera and COOLPIX S1100pj compact digital camera are the recipients of the iF Product Design Award. The iF Product Design Awards are globally prestigious industrial product design awards sponsored by International Forum Design GmbH of Hanover Germany.
The iF Product Design Award has been sponsored by International Forum Design (iF) based in Hanover Germany, since 1953. Each year, industrial products exhibiting superior design from around the world are selected as recipients of the prestigious award. This year, 2,756 products from 43 countries were evaluated, with the award being presented to 993 products. In selecting recipients of the award, product aspects including quality of design, functionality, degree of innovation, simplicity of operation and environmental impact are considered.
The D3100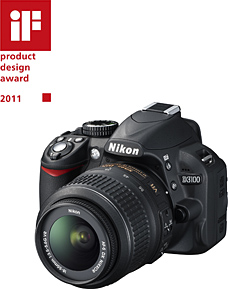 The D3100 is an entry level digital-SLR camera equipped with a new DX-format CMOS image sensor with an effective pixel count of 14.2-million pixels and the new image-processing engine, EXPEED 2, both developed by Nikon, that enables the capture of high-definition images with superior image quality. The D3100 offers improvements to the Guide mode built into its predecessor, the D3000, with the addition of options and assist images that make operation simpler and more intuitive. The camera is also equipped with a number of convenient functions, including live view mode, which allows users to compose shots using the camera's monitor, as well as D-Movie, which enables recording of full HD movies. Despite its compact size and light weight, the D3100 offers the authentic performance of a digital-SLR camera, allowing even beginners to capture beautiful photos according to their individual intent with simple operation.
The COOLPIX S1100pj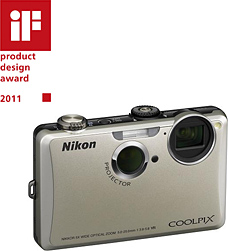 The COOLPIX S1100pj is a compact digital camera with an effective pixel count of 14.1-million pixels, and is equipped with a 5x optical zoom NIKKOR lens and an ultra-compact projector. By increasing projection brightness by 40% over that of its predecessor, the COOLPIX S1000pj, projection is larger and clearer. In addition, adoption of a 3-inch TFT LCD touch panel monitor enables intuitive camera operation. The S1100pj also supports projection of computer data when connected to a computer, increasing the ways in which the built-in projector may be used for both personal and business applications.
*

Specifications and equipment are subject to change without any notice or obligation on the part of the manufacturer.
The information is current as of the date of publication. It is subject to change without notice.