Enabling Super High Accuracy and Super High Throughput with the Streamlign Platform
Nikon Releases NSR-S621D, the Latest ArF Immersion Scanner
February 1, 2012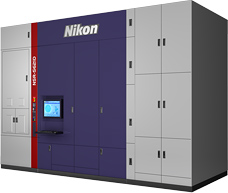 Nikon Corporation (Makoto Kimura, President, Chiyoda-ku, Tokyo) shipped the latest ArF immersion scanner, "NSR-S621D," in January, 2012. NSR-S621D has been developed for high-volume manufacturing the 22 nm process node (capable of handling double patterning*1) by further enhancing the accuracy and productivity of the proven NSR-S620D. Nikon plans to position the NSR-S621D as its flagship tool and expand its sales.
*1

Double Patterning: A technique in which one circuit pattern is split into two patterns with density low enough to be printed by existing immersion lithography tools, which are then exposed and combined to ultimately render high density.
Overview
| | |
| --- | --- |
| Product Name | NSR-S621D, ArF Immersion Scanner |
| Release Date | Starting January 2012 |
Development Background
VLSI chips, the backbone of the IT revolution, continue to shrink and get denser. The semiconductor industry is transitioning to development and high-volume manufacturing of a 20nm generation process device. In the photolithography field, the double patterning using an immersion lithography tool continues to be considered a promising technology, requiring a substantial improvement in overlay accuracy and throughput.
NSR-S621D realizes an extremely high overlay accuracy of 2nm and throughput of 200wph by employing the Streamlign Platform proven in NSR-S620D*2 and further improving it both in terms of hardware and software to provide the optimal and efficient solution to customers' production lines.
*2

Nikon's existing scanner NSR-S620D has an overlay accuracy of 3nm and throughput of 180wph.
Main Characteristics of the Streamlign Platform
1.Bird's Eye Control system: New interferometer system that realizes significant improvement in overlay accuracy
Use of encoders delivers stage position measurements that are insensitive to air fluctuations, and in conjunction with the conventional interferometer measurements, a hybrid system that enables improved overlay accuracy is realized.
2.Stream Alignment: New measurement technology that realizes a dramatic improvement in throughput
By increasing the number of FIA microscopes to five (Five-Eye FIA)*3, alignment measurements can be performed in a shorter period of time.
Five-Eye FIA minimizes throughput loss even when multiple points, nearly equal to the entire amount of shots, have to be measured.
*3

Five-Eye FIA: The number of alignment microscopes was increased from the conventional one to 5 (multiple lens type).
3.Modular2 Structure: New modular structure for improved maintainability
With its hierarchicalized module, installation time at a customer site is reduced and parts replacement is simplified. This substantially improves maintainability.
Main Performance Features
Resolution
≤38 nm
NA
1.35
Light source
ArF excimer laser (193 nm)
Reduction magnification
¼
Maximum exposure area
26 x 33 mm
Overlay accuracy
≤2 nm
Throughput (300 mm wafer)
125 shots
≥200 wph
The information is current as of the date of publication. It is subject to change without notice.