Nikon Introduces New Laser Rangefinder COOLSHOT
March 29, 2012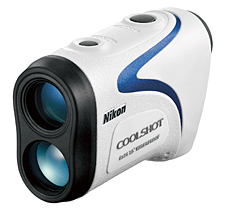 Nikon Vision Co., Ltd., a subsidiary of Nikon Corporation, is pleased to announce the release of its Laser Rangefinder COOLSHOT—the new golfing rangefinder brand and a successor to acclaimed Nikon Laser 350G—with a high-speed ranging system out to 550 m/600 yd. with 0.5-m/yd. distance display step.
Laser Rangefinder COOLSHOT offers easy and immediate subject acquisition with the 6x multicoated lenses, large ocular lens and wider field of view. The cool, ergonomic design and compact, lightweight body make it easy to hold, allowing golfers instant measurement during critical situations on the course. A single press of the POWER button activates First Target Priority Mode, which enables accurate and quick measurement of distance to flagstick with 8-second continuous measurement. The newly featured LED illumination provides a bright display in dark conditions.
Key Features
Compact, lightweight and ergonomic design
Measurement range: 10 – 550 m (11 – 600 yd.)
First Target Priority Mode enables easy measurement of the distance to a flagstick on the golf course
A single press of the POWER button provides 8-second continuous measurement, which enables measurement even with slight hand movement
Distance display step is 0.5 m/yd.
High-quality 6x monocular with multilayer coating for bright, clear images
Light transmittance is greatly improved for a brighter field of view
Larger ocular for easy viewing (18 mm)
Wider field of view (7.5°)
Longer eye relief design affords eyeglass wearers easy viewing
Diopter adjustment function
LED illumination for easy viewing of the display in dark conditions
Waterproof (up to 1 m for 10 minutes), but not for underwater usage; the battery chamber is water-resistant
Wide temperature tolerance: −10 °C to +50 °C
Specifications
Measurement range
10 – 550 m/11 – 600 yd.
Distance display (increment)
Every 0.5 m/yd.
Finder
Magnification
6x
Effective objective diameter
21 mm
Actual field of view
7.5°
Exit pupil
3.5 mm
Eye relief
18.3 mm
Dimensions (L × H × W)
111 × 70 × 40 mm
Weight (excluding battery)
165 g
Power source
CR2 lithium battery × 1 (DC3V)
Auto power shutoff function (activated after 8 sec.)
Safety
Class 1M Laser Product (EN/IEC60825-1:2007), Class I Laser Product (FDA/21 CFR Part 1040.10:1985)
EMC
FCC Part 15 Subpart B Class B, EU:EMC directive, AS/NZS, VCCI Class B
Environment
RoHS, WEEE
The specifications of the product may not be achieved depending on the target object's shape, surface texture and nature, and/or weather conditions.
This information is current as of the date of publication. It is subject to change without notice.