Nikon Introduces New ACULON T11 Binoculars
July 12, 2012
Nikon Vision Co., Ltd., a subsidiary of Nikon Corporation, is pleased to announce the release of its ACULON T11 compact zoom binoculars, the successor of the highly-acclaimed EAGLEVIEW ZOOM model.
Since their release in 2004, EAGLEVIEW ZOOM binoculars have consistently received excellent evaluations from users, particularly for their easy-to-use zooming function and turn-and-slide rubber eyecups. Inheriting all these user-friendly features, ACULON T11 features even better optical performance as all prisms and lenses have multilayer-coating for brighter and clearer images.
The sleek, lightweight body fits comfortably into the hand and is easy to use in a variety of situations, such as spectator sports, open-air concerts and when traveling. Three body colors—black, silver and red—are available to suit a wide range of tastes and preferences.
The name ACULON is a combination of the words accuracy and precision. Befitting its name, ACULON is expected to fit easily into the users' lifestyle and inspire them to rediscover a sense of wonder in everyday life.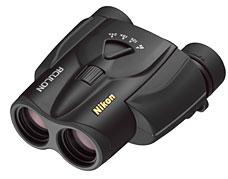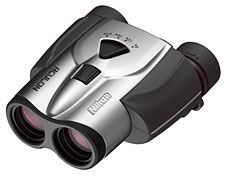 Key Features
Compact and lightweight
All lenses and prisms are multilayer-coated for brighter images
Unique zoom lever designed for extra-smooth 8-24x zooming
Turn-and-slide rubber eyecups facilitate easy positioning of eyes at the correct eyepoint
Designed for comfortable fit and easy handling
Available in three body colors (black/silver/red)
Specifications
| | |
| --- | --- |
| Magnification (x) | 8-24 |
| Objective diameter (mm) | 25 |
| Angular field of view (real/degree) | 4.6 (at 8x) |
| Angular field of view (apparent/degree)* | 35.6 (at 8x) |
| Field of view at 1,000 m (m) | 80 (at 8x) |
| Exit pupil (mm) | 3.1 (at 8x) |
| Relative brightness | 9.6 (at 8x) |
| Eye relief (mm) | 13.0 (at 8x) |
| Close focusing distance (m) | 4 |
| Interpupillary distance adjustment (mm) | 56-72 |
| Length (mm) | 123 |
| Width (mm) | 109 |
| Weight (g) | 305 |
*

Nikon has adopted a calculation method based on ISO 14132-1:2002.
tan ω' = Γ x tan ω
Apparent field of view: 2ω'
Real field of view: 2ω
Magnification: Γ
This information is current as of the date of publication. It is subject to change without notice.