Digital Compact Camera Nikon COOLPIX L610
August 9, 2012
A high zoom-ratio model equipped with a 14x optical zoom lens covering the 25- to 350-mm range of focal lengths and offering simple operation
TOKYO - Nikon Corporation is pleased to announce the release of the L610, a 14x optical zoom model for the COOLPIX L series, which places emphasis on simple operation and functions that make digital camera photography fun.
The L610 is the latest model in the L-series lineup. It is equipped with a 14x optical zoom lens and is very easy to use. It offers a number of features and functions that allow users to capture the intended shots with the simplest of operations. The image sensor built into the L610 is a backside illumination CMOS sensor with an effective pixel count of 16.0-million pixels that achieves superior image quality, even at high sensitivities. The camera is also equipped with lens-shift vibration reduction (VR), Target Finding AF, with which the user need only point the camera in the direction of the intended subject and the camera automatically identifies and focuses on that subject, and support for recording full-HD movies with excellent picture quality.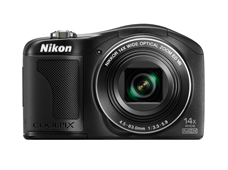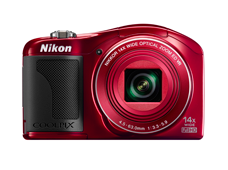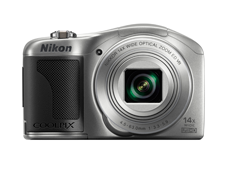 COOLPIX L610 Primary Features
1. A 14x optical zoom NIKKOR lens with coverage for angles of view for focal lengths from the wide-angle 25 mm to the telephoto 350 mm (equivalents in 35-mm [135] format)
The camera is equipped with a high-performance NIKKOR lens constructed of 11 elements in 10 groups, including two ED lens elements, with a built-in lens-shift vibration reduction (VR) function. This enables hand-held shooting of a wide variety of everyday scenes, from wide-angle landscapes and group shots to telephoto shooting that brings subjects closer. The camera and lens also support macro photography for capturing close-up photos of beautiful flowers or favorite dishes.
2. Backside illumination CMOS sensor with an effective pixel count of 16.0-million pixels enables capture of images exhibiting little noise at the high sensitivities required for night landscapes and pictures taken indoors under dim lighting
The superior image quality of 16.0-million pixels and the high-speed processing capability of the backside illumination CMOS sensor, which enables high-speed capture of multiple exposures that are then combined into a single image and also supports noise reduction technologies, ensure capture of the desired images without concern for shooting conditions, even when the surroundings are dark or dimly lit.
3. Target Finding AF, with which the user simply points the camera at the intended subject, and the camera automatically focuses on the optimal subject
The L610 is equipped with Target Finding AF, a technology that identifies photographic subjects, developed exclusively by Nikon. This technology is based on an incredibly large number of simulations as well as ergonomics to analyze conditions that make it easy for the camera to identify human subjects. By simply pointing the camera at the intended subject, the camera instantly predicts the portion where focus should be acquired. As the active focus area is automatically specified in accordance with the size of the subject, resulting images are in clear focus. In addition, Target Finding AF not only works with subjects positioned at the center of the frame, but with off-center subjects as well. This capability is clearly exhibited not only with human subjects, but also with shooting of smaller subjects such as flowers, food and the like.
4. Equipped with a function for recording high-resolution full-HD (1920 x 1080p/30 fps) movies with stereo sound
By simply pressing the movie-record button on the back of the camera, 1920 x 1080p/30-fps full-HD movies with stereo sound can be recorded. The L610 is equipped with an HDMI mini connector, which allows users to watch their movies with family and friends with high-definition picture quality by simply connecting the camera to a high-definition TV using a standard third-party HDMI cable.
5. A compact body designed with large buttons for simple operation
A grip with a shape and texture that offers a firm hold, and large buttons and controls make the camera easy to use. The metal-tone accents on the camera give it an elegant appearance. The L610 will be available in three colors: black, red, and silver.
6. A variety of shooting functions that enable capture of photos as intended
In addition to Easy Auto mode, with which the user need simply point the camera at the intended subject and the camera automatically identifies the scene and shooting conditions to apply the optimal scene mode, the L610 also offers Special Effects and Filter Effects that help users to easily achieve the desired results. Special Effects can be applied prior to shooting to achieve a desired effect. Filter Effects can be easily applied to photos that have already been taken to achieve desired effects with in-camera editing.
Easy auto mode: 6 scenes
Portrait, Landscape, Night Portrait, Night Landscape, Close-up, Backlighting
Special effects: 4 effects
Soft, High Key, Low Key, Selective Color
Filter effects: 5 filters
Soft, Selective Color, Cross Screen, Miniature Effect, Painting
7. Uses AA batteries readily available anywhere
The L610 supports both AA alkaline and lithium batteries. When using the camera away from home, support for these batteries that may be purchased anywhere enables worry-free shooting.
Specifications, design, product name and supplied accessories may differ by country or area. Specifications and equipment are subject to change without any notice or obligation on the part of the manufacturer.
The information is current as of the date of publication. It is subject to change without notice.