Nikon developing three new 1 NIKKOR lenses
October 24, 2012
Expansion of the lineup of lenses for Nikon 1, Advanced Camera with Interchangeable Lenses
TOKYO - With the goal of expanding the lineup of 1 NIKKOR lenses for Nikon 1 advanced camera with interchangeable lenses, Nikon Corporation is developing three new lenses and preparing them for release.
The three new lenses being developed are a 32mm*1 medium-telephoto fixed focal length lens with a fast maximum aperture of f/1.2 optimal for portraits exhibiting significant background blur; a vibration-reduction (VR) equipped 6.7-13mm*2 f/3.5-5.6 ultra wide-angle zoom lens that is the first 1 NIKKOR lens to offer a 100° angle of view; and a compact and lightweight 10x zoom lens covering the 10-100mm*3 range of focal lengths with maximum apertures of f/4-5.6, making it a lens that is convenient and portable enough to take everywhere, including on vacation.
The new 1 NIKKOR brand of interchangeable lenses continues in the tradition of the Nikon F mount, which has a history that goes back more than half a century. 1 NIKKOR lenses employ the new Nikon 1 mount lens mount system, and are developed for use with Nikon 1 cameras. 1 NIKKOR lenses are developed using optical technologies Nikon has cultivated over the years with its NIKKOR lenses, and offer the same superior image quality users have come to expect from the Nikon name with recording of not only still images, but movies as well.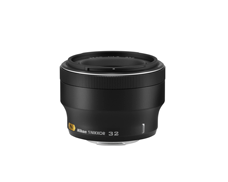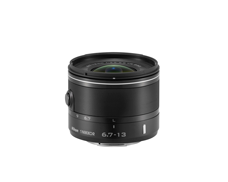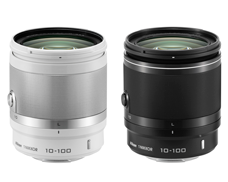 The current 1 NIKKOR lineup consists of the 1 NIKKOR VR 10-30mm f/3.5-5.6 normal zoom lens released last year; the 1 NIKKOR VR 30-110mm f/3.8-5.6 compact telephoto zoom lens; the 1 NIKKOR 10mm f/2.8 slim wide-angle fixed focal length lens; the 1 NIKKOR VR 10-100mm f/4.5-5.6 PD-ZOOM lens equipped with a power drive mechanism and recommended for movie recording; the 1 NIKKOR 11-27.5mm f/3.5-5.6 2.5x normal zoom lens; and the 1 NIKKOR 18.5mm f/1.8 fixed focal length lens with fast maximum aperture. The addition of the three new lenses will bring the total lineup to nine.
Nikon will continue to develop lenses that make the most of the capabilities and performance offered by its new digital camera system, Nikon 1, which proposes new forms of imaging expression, for positive expansion of the 1 NIKKOR lineup.
Release date and suggested retail price for this product have not been determined.
*1

Equivalent to 86.4mm in 35-mm [135] format.

*2

Equivalent to 18-35mm in 35-mm [135] format.

*3

Equivalent to 27-270mm in 35-mm [135] format.
*

Specification and equipment are subject to change without any notice or obligation on the part of manufacturer. Exterior finishing and design are not final.
The information is current as of the date of publication. It is subject to change without notice.