AF-S NIKKOR 35mm f/1.8G ED
January 7, 2014
A wide-angle 35mm fixed focal length (prime) lens with a maximum aperture of f/1.8 compatible with the Nikon FX format
TOKYO - Nikon Corporation is pleased to announce the release of the AF-S NIKKOR 35mm f/1.8G ED, a wide-angle 35mm fixed focal length (prime) lens with a maximum aperture of f/1.8 compatible with Nikon FX-format digital SLR cameras.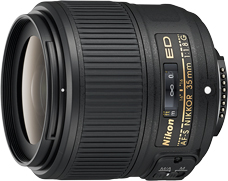 The AF-S NIKKOR 35mm f/1.8G ED*1 is an extremely portable lens that, when used with a Nikon digital SLR camera, offers the bright viewfinder image of a fast fixed focal length lens and the beautiful blur characteristics of a shallow depth of field.
In addition, adoption of an ED lens element and an aspherical lens element, which ensure superior image quality, and optical design that controls sagittal coma flare*2 for excellent point image formation make the lens capable of maximizing the distinctive characteristics of high pixel-count digital SLR cameras with expression of the finest details.
Releasing the AF-S NIKKOR 35mm f/1.8G ED responds to a variety of needs by enriching our fast prime lens lineup covering focal lengths from wide-angle to the mid-telephoto range.
*1

When used with a Nikon DX-format digital SLR camera, the effective angle of view is equivalent to that of a lens with a 52.5mm focal length.

*2

A phenomenon with which the edges of pinpoint light sources in photos of night landscapes and the like are not rendered as point images, but appear distorted to resemble the outspread wings of a bird in flight
Nikon considers point-image formation with design of all NIKKOR lenses, utilizing its long history of striving for the ideal of rendering point images as sharp points. The AF-S NIKKOR 58mm f/1.4G, which offers superior point-image rendering from maximum aperture, was another fast, fixed focal length lens developed with this same design concept and released last year. Our lineup already includes the AF-S NIKKOR 35mm f/1.4G, which offers similar characteristics, and we have continued this design concept with the AF-S NIKKOR 35mm f/1.8G ED.
The AF-S NIKKOR 35mm f/1.8G ED responds to the needs of users looking for a high-performance, wide-angle fixed focal length lens that can easily be taken anywhere, as well as those who want to enjoy capture of more impressive in portraits, night landscapes, photos of starry skies, and the like.
AF-S NIKKOR 35mm f/1.8G ED Primary Features
Optical design that considers point image formation for very little sagittal coma flare
A new optical design utilizing ED and aspherical lens elements for superior optical performance that enables excellent resolution and contrast
Convenient portability with good balance when mounted on camera bodies
Smooth blur characteristics that render subjects more impressively
A Silent Wave Motor (SWM) for fast and quiet autofocusing
*

Specifications, design, product name and supplied accessories may differ by country or area. Specifications and equipment are subject to change without any notice or obligation on the part of the manufacture.
The information is current as of the date of publication. It is subject to change without notice.