CNC Video Measuring System iNEXIV 4540V/4540
February 17, 2014
CNC Video Measuring System iNEXIV VMA-4540V for large workpieces and touch-probe-measurement-capable iNEXIV VMA-4540
TOKYO - Nikon Corporation (President: Makoto Kimura) is pleased to announce the release of two new CNC Video Measuring Systems, the iNEXIV VMA-4540V and 4540. These products offer a wide field of view, easy operation, and allow the measurement of both large and tall mechanical parts.
Product information
Product Name
CNC Video Measuring System
iNEXIV VMA-4540V/iNEXIV VMA-4540
Available from
April 1, 2014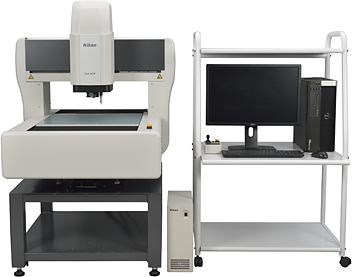 Product Concept
The CNC Video Measuring System automatically measures the dimensions of a variety of precision equipment and electric parts, using optical measuring technologies and image processing technologies. It makes measuring complex sample shapes possible by precisely detecting the edges of the sample using CCD camera images and processing that data.
The very affordable VMA-4540V/4540 is being launched as an addition to the iNEXIV series. It offers a larger measurement stroke than the iNEXIV VMA-2520, the model released in January 2007. The VMA-4540V offers video measurement only, and the VMA-4540 additionally provides optional touch probe measurement.
Features
1. Large measuring range
The large stage stroke supports the high-speed measurement of large printed substrates and tall plastic-injection-molded parts, and the mass inspection of multiple parts simultaneously, resulting in a significant reduction in inspection costs.
2. Clear images with wide field of view
A wide FOV of up to 13 mm x 10 mm (at 0.35x) makes the search and alignment of measuring targets easy. An excellent Apochromat objective lens with high NA (0.11) and low distortion has been specially designed for the iNEXIV series, providing crisp, clear images.
The VMA-4540V/4540 is equipped with episcopic, diascopic and 8-segment ring LED illuminators to suit the sample shape. Combining these illuminators and adjusting light intensity and direction, makes the accurate detection of low contrast edges possible.
3. Fast and accurate vision AF (Auto Focus)
The VMA-4540V/4540 series is equipped with highly repeatable vision AF that offers high-speed, high-precision focusing of sample surfaces or edges, reference-plane settings and height/depth measurement. Non-contact measurement using vision AF does not damage or deform parts.
Laser AF is available as an option, enabling the height measurement of flat surfaces with high repeatability at any magnification or depth of focus.
4. Complex 3D shape measurement (option)
The VMA-4540 is touch-probe ready and can accommodate optional Renishaw® TP20 or TP200 touch probes. Touch probes enable the measurement of 3D parts when video measuring methods cannot be used, such as lengths and angles in areas that cannot be seen from above.
Video measurement and touch probe measurement can be easily conducted using one teaching file.
Specifications
iNEXIV VMA-4540V/4540 main body
Stroke (X x Y x Z)
450 x 400 x 200 mm (18" x 16" x 8")
Minimum readout
0.1 μm
Maximum workpiece weight
40 kg (up to 20 kg accuracy guaranteed)
Maximum permissible error*1
EUX, MPE EUY, MPE: 2 + 6L/1000 μm (with Vision AF)
EUXY, MPE: 3 + 6L/1000 μm (with Vision AF)
EUZ, MPE: 3 + L/100 μm (with Laser AF or Touch Probing)
(L = Length in mm)
Camera
1/3-in. 3CCD color or B/W
Progressive scan
Working distance
73.5 mm (63 mm with Laser AF)
Magnification
Optical: 0.35 to 3.5x
On screen: 12.6 to 126x with 24-inch WUXGA (1920 x 1200 pixels) monitor
Auto focus
Vision AF and optional Laser AF
Illumination
Contour illumination : White LED diascopic illumination
Surface illumination : White LED episcopic illumination
Oblique illumination : 8-segment white LED ring illumination
Touch probe (optional)*2
Renishaw® TP200/TP20
Power source
100 V-240 V, 50/60 Hz
Power consumption
5 A-2.5 A
(excluding power consumption of host computer and its peripherals)
Dimensions (W x D x H) & weight
Main body with table : 1000 x 1340 x 1553 mm, 500 kg
Controller : 145 x 400 x 390 mm, 13 kg
*1

Nikon's in-house test at 20°C ±0.5k

*2

The touch probe can only be attached to the VMA-4540, and not to the VMA-4540V.
This information is current as of the date of publication. It is subject to change without notice.