Three Nikon products receive the "red dot award: product design 2014"
Nikon Df and Nikon D5300, and the ACULON T51 binoculars
April 15, 2014
TOKYO - Nikon Corporation is pleased to announce that three of its products are recipients of the prestigious "red dot award: product design 2014", sponsored by Germany's Design Zentrum Nordrhein Westfalen. The products selected this year are the Nikon Df, a Nikon FX-format digital SLR camera, the D5300 digital SLR camera, and the ACULON T51 binoculars, a product of Nikon subsidiary Nikon Vision Co., Ltd.
The "red dot award: product design" is a world-class award presented to products released over the past two years that exhibit superiority in terms of a total of nine aspects, including innovation, functionality, ergonomics, ecology, and durability.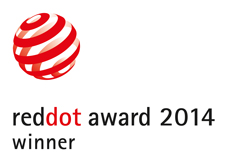 4,815 products from 1,816 companies in 53 countries were entered in the "red dot award: product design 2014" competition. Winners will be on display at a special exhibition to be held from July 8, 2014 to August 3, 2014 at the Red Dot Design Museum in Essen, Germany.
See the Red Dot Online website for further information on the "red dot design awards".
Nikon Df Overview
The Df combines intuitive dial operation with the feel of a precision instrument and superior image quality in the smallest and lightest body in the history of Nikon FX-format digital SLR cameras, making the camera extremely portable. Offering an effective pixel count of 16.25-million pixels, and equipped with the combination of FX-format CMOS sensor and EXPEED 3 image-processing engine, the Df offers stable, superior image quality under a wide variety of lighting conditions. It supports a broad range of standard sensitivities, from ISO 100-12800, with additional reduction to the equivalent of ISO 50 and expansion to the equivalent of ISO 204800. Large metal mechanical dials provide a system that allows users to focus on shooting with the security that comes from visual confirmation of settings such as ISO sensitivity, shutter speed, and exposure compensation values, as well as the convenience of direct adjustment of settings at any time, even when the camera is turned off.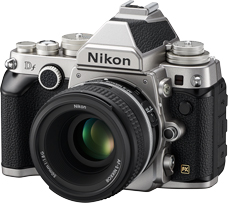 Nikon D5300 Overview
The D5300 is an entry-level model equipped with a Nikon DX-format CMOS sensor with an effective pixel count of 24.2-million pixels and no optical low-pass filter, and the high-performance EXPEED 4 image-processing engine. It is Nikon's first digital SLR camera to offer built-in Wi-Fi® and location data (GPS) functions, which enable simple sharing of high-quality images captured with the D5300 via a smart device, as well as offering users the ability to look back on routes taken on vacation or with outdoor activities using a log feature that is part of the built-in GPS function. In addition, the built-in vari-angle monitor enables flexible shooting from almost any angle.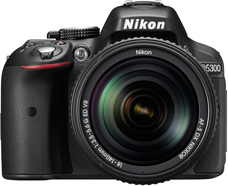 ACULON T51 Overview
The ACULON T51 binoculars have a compact and elegant design that makes them extremely portable. The aluminum body makes these binoculars lightweight while preserving the strength and durability of the stylish design. Multilayer coatings have been applied to lenses to allow more light to pass through them for a bright field of view.
The ACULON T51 is available in four colors, black, silver, pink and red with elegant metallic finishes. These binoculars, available with 8x24 or 10x24 specifications, are perfectly suited to a variety of uses, whether on vacation, at the theater,viewing art, or at concerts.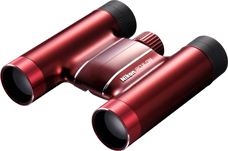 The information is current as of the date of publication. It is subject to change without notice.