Nikon Introduces Laser Rangefinder PROSTAFF 3i
July 15, 2014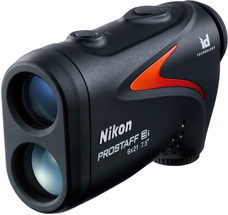 Nikon Vision Co., Ltd., a subsidiary of Nikon Corporation, is pleased to announce the release of the Nikon Laser Rangefinder PROSTAFF 3i — the ideal partner for your outdoor activities.
The PROSTAFF 3i employs ID Technology, which displays the horizontal distance in addition to the actual distance. It also boasts a compact, easy-to-hold, ergonomically designed body.
One simple press of the POWER ON/Measurement button enables measurement, with the results quickly displayed. What's more, keeping the button pressed gives you continuous measurement for up to approx. 8 seconds. This is highly effective when measuring the distance to a moving target — with no need to worry about hand movement.
The PROSTAFF 3i features a rainproof structure (IPX4 equivalent under our testing conditions), making it ideal for outdoor use without being concerned about changes in the weather.
Key Features
Measurement range: 7.3-590m /8-650 yds.
Horizontal Distance display mode and Actual Distance display mode can be easily switched — ID (incline/decline) Technology
Target Priority Switch System for measuring overlapping subjects:
First Target Priority mode displays the distance of the closest subject — useful when measuring the distance to a subject in front of an overlapping background.
Distant Target Priority mode displays that of the farthest subject — useful in wooded areas.
Compact, lightweight and ergonomic design
Distance measurement display step is 0.1m/yd.
High-quality 6x monocular with multilayer coating for bright, clear images
Large ocular for easy viewing (18mm)
Wide field of view (7.5 degrees)
Long eye relief design affords eyeglass wearers easy viewing
Dioptre adjustment function
Single or continuous measurement (up to 8 seconds)
Rainproof — JIS/IEC protection class 4 (IPX4) equivalent (under our testing conditions)
Wide temperature tolerance: -10°C to +50°C
Specifications
PROSTAFF 3i
Measurement range
7.3-590m/8-650 yds.
Distance display (increment)
Every 0.1m/yd.
Finder
Magnification (x)
6
Effective objective diameter (mm)
21
Actual field of view(°)
7.5
Exit pupil (mm)
3.5
Eye relief (mm)
18.3
Dimensions (LxHxW)
112 x 70 x 36
Weight (excluding battery) (g)
160
Power source
CR2 lithium battery x 1 (DC 3V)
Auto power shutoff function equipped (after 8 sec.)
Structure
JIS/IEC protection class 4 (IPX4) equivalent (under our testing conditions)
Safety
Class 1M Laser Product (EN/IEC60825-1:2007)
Class I Laser Product (FDA/21 CFR Part 1040.10:1985)
EMC
FCC Part15 SubPartB class B, EU:EMC directive, AS/NZS, VCCI classB
Environment
RoHS, WEEE
*

The specifications of the product may not be achieved depending on the target object's shape, surface texture and nature, and/or weather conditions.
The information is current as of the date of publication. It is subject to change without notice.