AF-S NIKKOR 20mm f/1.8G ED
September 12, 2014
A fast, ultra wide-angle fixed focal length (prime) lens with a focal length of 20mm and a maximum aperture of f/1.8 compatible with the Nikon FX format
TOKYO - Nikon Corporation is pleased to announce the release of the AF-S NIKKOR 20mm f/1.8G ED, a fast, ultra wide-angle fixed focal length lens that is compatible with Nikon FX-format digital SLR cameras.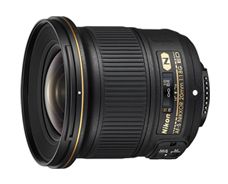 The AF-S NIKKOR 20mm f/1.8G ED is a fast, ultra wide-angle 20mm*1 fixed focal length lens with a maximum aperture of f/1.8. Adoption of Nano Crystal Coat suppresses the generation of flare and ghost, and the latest optical design technologies achieve superior rendering capabilities that ensure excellent resolution and minimal chromatic aberration. Compact and lightweight, the lens is extremely portable. In addition, its ultra-wide angle of view and fast aperture enable photographic expression that makes the most of blur characteristics.
It is the optimal lens for achieving dynamic expression of nature's majesty and cityscapes, as well as for portraying the overwhelming presence of colossal structures. The AF-S NIKKOR 20mm f/1.8G ED allows users to capture photos that preserve the sense of incredible scale felt when looking directly at a subject or scene.
By adding the AF-S NIKKOR 20mm f/1.8G ED to its lineup of fast, f/1.8, fixed focal length NIKKOR photographic lenses, Nikon is responding to a variety of ever-expanding needs with regard to photographic expression from the ultra wide-angle to mid-telephoto range*2.
*1

When used with a Nikon DX-format digital SLR camera, the effective angle of view is equivalent to that of a lens with a 30mm focal length in 35mm [135] format.

*2

The AF-S NIKKOR 20mm f/1.8G ED is the sixth lens in Nikon's line of fixed focal length G-type lenses compatible with the Nikon FX format and offering a maximum aperture of f/1.8. It follows the AF-S NIKKOR 85mm f/1.8G, AF-S NIKKOR 50mm f/1.8G, AF-S NIKKOR 50mm f/1.8G (Special Edition), AF-S NIKKOR 35mm f/1.8G ED, and AF-S NIKKOR 28mm f/1.8G.
AF-S NIKKOR 20mm f/1.8G ED Primary Features
Design based on the latest optical technologies achieves superior point image reproduction characteristics and minimal chromatic aberration
The ultra wide-angle 20mm focal length achieves rendering that reproduces the entire space visible to the naked eye, and enables photographic expression that harnesses perspective from a variety of angles
Shallow depth-of-field possible only with a maximum aperture of f/1.8 for smooth and beautiful blur characteristics that render subjects more impressively
Two aspherical lens elements, two ED lens elements, and Nano Crystal Coat adopted
Compact and lightweight for superior portability that makes the lens easy to take anywhere
Close-up photography is also possible with a closest focusing distance of 20 cm
Specifications, design, product name and supplied accessories may differ by country or area. Specifications and equipment are subject to change without any notice or obligation on the part of the manufacture.
The information is current as of the date of publication. It is subject to change without notice.