Nikon launches its Download Center
December 17, 2014
A global download site supporting 43 languages from which imaging product manuals and software can be downloaded
TOKYO - Nikon Corporation is pleased to announce its launch of Download Center on December 17, 2014. Download Center is a global download site that offers software and manuals for Nikon digital cameras and related products.
Download Center consolidates and offers downloads of Nikon software and product documentation previously available from the websites administered by our regional subsidiaries around the world. The site supports 43*1 languages, and will provide information on the latest downloads. In addition, the site has been designed with consideration of the viewing and download of information to mobile devices such as smartphones*2. This means that visitors to the site will be able to choose their language and access important download information from these devices.
*1

Some contents will not be available in all supported languages.

*2

Only product documentation, such as user's manuals, can be downloaded to mobile devices such as smartphones.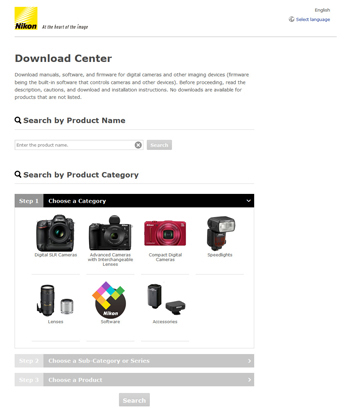 With the launch of Download Center, Nikon hopes to provide users of its products with even better service and increase customer satisfaction by consolidating and providing users with a download service supporting various languages.
Download Center Overview
Name
Download Center
Launch date
December 17, 2014
URL

http://downloadcenter.nikonimglib.com

Information provided
Product documentation (User's Manuals, Reference Manuals, etc.)
Firmware (product firmware, distortion control data, A-GPS update files, etc.)
Software (software applications, NEF and NRW codecs, etc.)
Supported languages
A total of 43 languages
English, Japanese, German, French, Spanish, Simplified Chinese, Traditional Chinese, Norwegian, Swedish, Finnish, Russian, Danish, Dutch, Portuguese, Italian, Greek, Polish, Czech, Hungarian, Slovak, Brazilian Portuguese, Korean, Thai, Indonesian, Turkish, Arabic, Vietnamese, Hindi, Slovenian, Estonian, Latvian, Lithuanian, Icelandic, Romanian, Ukrainian, Kazakh, Bengali, Tamil, Marathi, Telugu, Persian, Bulgarian, Serbian
Specifications and equipment are subject to change without any notice or obligation on the part of the manufacturer.
The information is current as of the date of publication. It is subject to change without notice.