Nikon Celebrates the 100th Anniversary of its Founding
July 25, 2017
Nikon Corporation (Kazuo Ushida, President, Tokyo) was established in 1917 (as Nippon Kogaku K.K.). Since then, we have been creating unique value all over the world by providing consumer and industrial optical equipment, including lithography systems and microscopes as well as cameras, based on opto-electronics and precision technologies.
Today, Nikon celebrates the 100th anniversary of its founding.
We deeply express our sincere gratitude to all of our stakeholders who have faithfully supported our development that met the needs of the last 100 years.
Over these 100 years, Nikon has contributed to industries and people's quality of life with its state-of-the-art technologies during each era. We were able to successfully focus on and overcome continuous challenges because we were fully supported and trusted by our stakeholders.
In order for people to create progress toward a prosperous future over the next 100 years, Nikon will continue to contribute to the world.
President's message
Today, Nikon celebrates the 100th anniversary of its establishment. I would like to express my sincere appreciation to all of our customers who use our products in their everyday lives, and the stakeholders who have supported our businesses, from the bottom of my heart.
For the past 100 years, consumer demand has called for convenient products that enhance daily life, and Nikon answered with its manufacturing skill and knowledge. However, society and consumer needs are rapidly changing today. We would like to effectively respond to these needs with the world's highest-class opto-electronics, precision technologies and solutions.
The difference from our past strategies is that we will offer not only products, but also ideas and solutions as well. Nikon will be reborn as a solution company providing superior technologies and ideas, holding "light" as our core competency.
Following our corporate philosophy of "Trustworthiness and Creativity", we hold a new vision of building the foundations of the next 100 years.
We ask for your continued support as we move forward.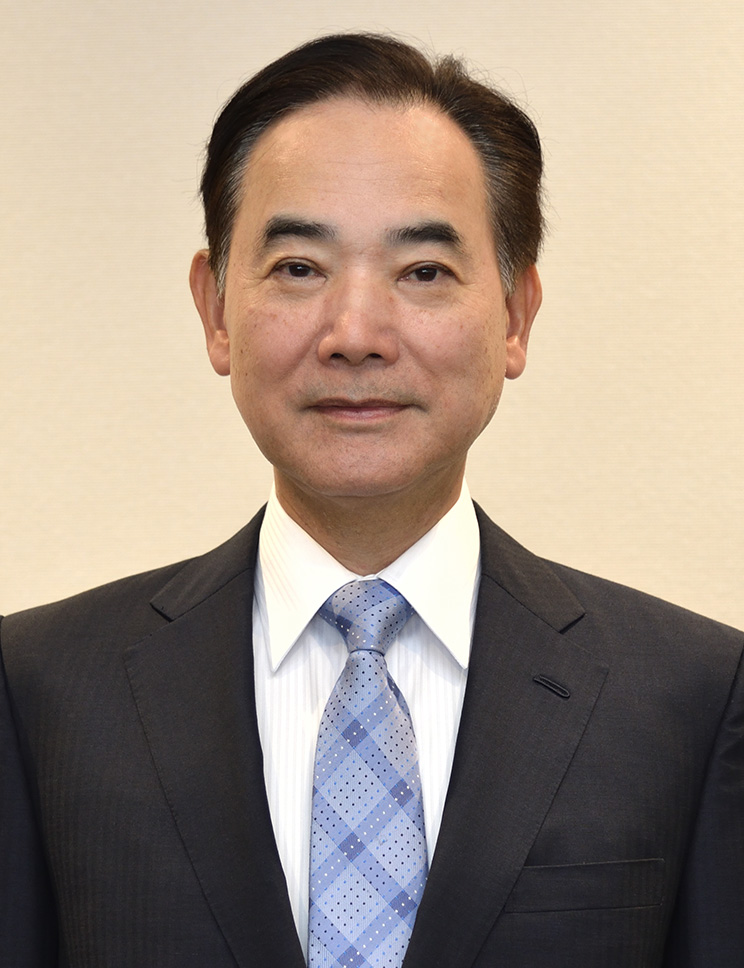 President
Representative Director

Celebrating our 100th anniversary of establishment today, we also introduce our new vision for the next 100 years. As well as this, we are announcing various events planned ahead including new contents in Nikon 100th anniversary site.
1. New vision and qualities of mind
Marking our centennial year, we announce our new vision that actively leads to our next 100 years.
Our Vision
Unlock the future with the power of light
Unleashing the limitless possibilities of light.
Striving to brighten the human experience.
Focused, with purpose, on a better future for all.
THIS IS THE ESSENCE OF NIKON
Our Qualities of Mind
Curiosity
We show our passion for progress through
a wide range of interests to cultivate fresh ideas.
Acceptance
We warmly embrace diverse ideas
and delight in differences among people and cultures.
Inspirational Power
We share our ideas with infectious enthusiasm
to effect positive change in the world.
2. Nikon 100th anniversary site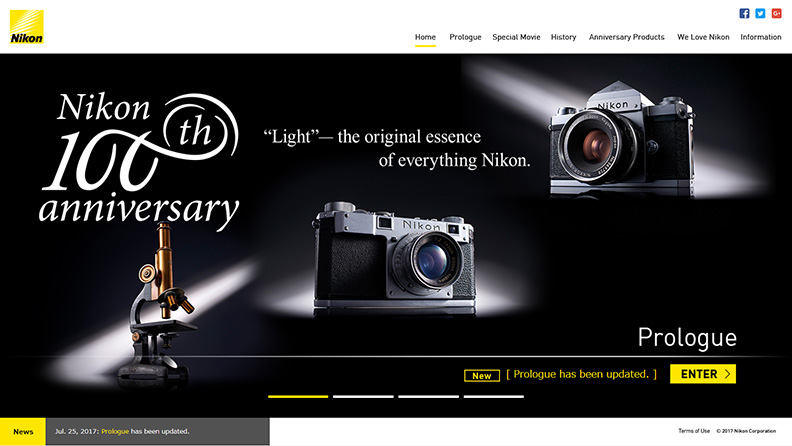 This site was opened in January, 2017 and delivers information related to Nikon's 100th anniversary. So far, we have released "Anniversary movie", interview articles with Nikon enthusiasts: "We Love Nikon", and a dance movie collaborating with Japanese popular band Mrs. GREEN APPLE and Nikon employees: "Oz [Nikon Version]".
Today, as new contents, we released the third interview articles of "We Love Nikon" and a special movie entitled "Passage of Light" which was created using photos gathered from Nikon employees all over the world.
Nikon 100th anniversary site are as follows:
3. 100th anniversary events at Nikon Museum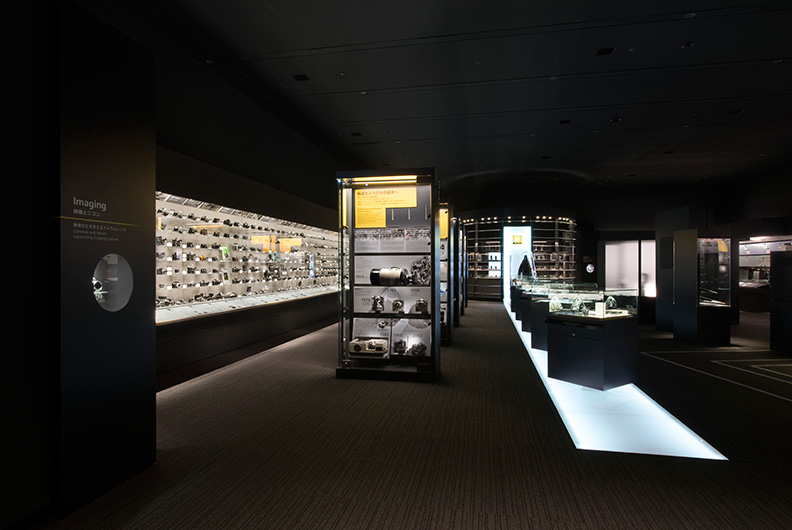 Celebrating Nikon's 100th anniversary, Nikon Museum was opened on October 17, 2015. More than 65,000 visitors* have already visited (*as of June 30, 2017).
Nikon Museum is the first facility where the histories, products and technologies of all of Nikon's enterprises are exhibited. To commemorate Nikon's 100th anniversary, some of the exhibition contents and the staff uniforms have been completely renewed. In addition to this, a special exhibition about Mr. David Douglas Duncan who is a distinguished American photojournalist, exemplified 20th century photography: "A Century of Memories - David Douglas Duncan" is presented.
For more details, see the following:
4. Nikon Photo Contest awards ceremony
The Nikon Photo Contest is one of the world's premier international photo contests, held since 1969.
The purpose of this competition is to provide an opportunity for photographers around the world to communicate and to enrich photographic culture for professionals and amateurs alike. This is the 36th contest, and commemorating the 100th Anniversary, the "Nikon 100th Anniversary Award" has been added, and works with the theme "Celebration" were entered.
The Nikon 100th Anniversary Prize winner was "Greeting to the Sun" by Annamaria Bruni (Italy). The awards ceremony will be held on July 27 in Tokyo, with winners, including the Nikon 100th Anniversary Prize winner.
The winning photos are exhibited on the Nikon Photo Contest 2016-2017 website.
5. THE GALLERY
For Nikon's 100th anniversary, the photo exhibition place, Shinjuku Nikon Salon has been renewed and opens as THE GALLERY on July 25. And also, Osaka Nikon Salon will be renewed and open as THE GALLERY in August. As the opening events, Kazuyoshi Miyoshi's Photo Exhibition, "The Radiant Light of India" is being held. And then Junji Takasago's Photo Exhibition, "LIGHT on LIFE" will be held.
The information is current as of the date of publication. It is subject to change without notice.