Enables additive manufacturing with titanium alloy
Nikon releases a new optical processing machine, the Lasermeister 102A
April 26, 2021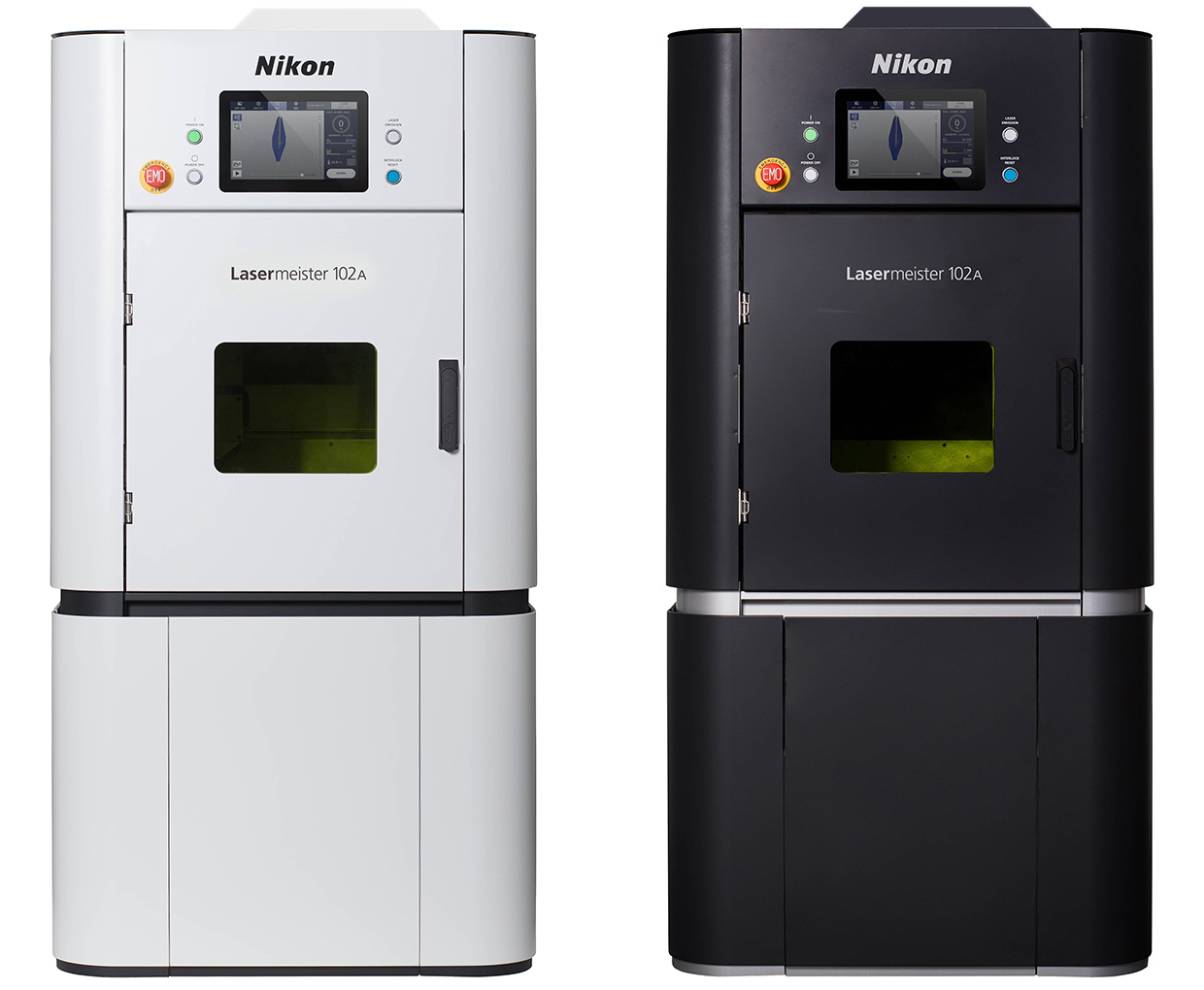 Nikon Corporation is pleased to announce the release of the new optical processing machine, Lasermeister 102A, capable of additive manufacturing with titanium alloy. The Lasermeister series are Nikon's original metal processing machines using high precision laser to perform various metal processing, providing additive manufacturing capabilities like a 3D printer, while also enabling laser marking and welding.
Nikon launched the Lasermeister 100A in April 2019, offering compact footprint and a wide variety of metal processing, followed by the release of successor Lasermeister 101A in May 2020. The Lasermeister 102A is a higher-end model, and follows the 5-axis control mechanism used in the Lasermeister 101A with improved functions, while maintaining a compact product size. Titanium alloy has been added to the available powder types and offers approximately twice the modeling speed.
It also complies with overseas safety standards, including those in Europe and the United States, and we plan to expand sales to overseas.
Product Overview
Product name
Optical processing machine Lasermeister 102A
Availability
Japan: May 2021
EU / USA:Nov. 2021
Development Background
Since the launch of the optical processing machine Lasermeister 100A in 2019, we have received a great deal of positive feedback and various opinions from our customers. To meet the expectations of our customers, we have made improvements and released the successor Lasermeister 101A in May 2020. In response to further demands, we added titanium alloy to the corresponding powder types, improved productivity and quality, leading to development of the Lasermeister 102A.
Key Features
1. Addition of titanium alloy powder
Lasermeister 102A is capable of modeling using titanium alloys, which has been highly requested by customers. Titanium alloy is lighter than steel, has better corrosion resistance than stainless steel and aluminum, and retains its strength even at high temperatures. These material properties allow the titanium alloy to be favored in various sectors from aerospace to automobiles and medical care, for applications of jet engines, turbine blades, vehicle exhaust pipes, and artificial bones.
In addition to the conventional SUS, high-speed steel, and Ni-based alloys, the Lasermeister 102A enables the use of titanium alloys, supporting a wide range of applications from modeling to repairing various parts.
2. Significantly improved productivity and quality
We have improved the quality by new addition of 'melt pool feedback' that observes the molten state of metal at high speed and controls the modeling operations. Compared to the conventional product "Lasermeister 101A", the modeling speed has approximately doubled. Furthermore, the dimensional accuracy and surface roughness has improved, and the uniform solidification state reduces defects during modeling.
The "Lasermeister 102A" has improved metal modeling quality, which can simplify the subsequent process, greatly improving the productivity of the entire manufacturing process.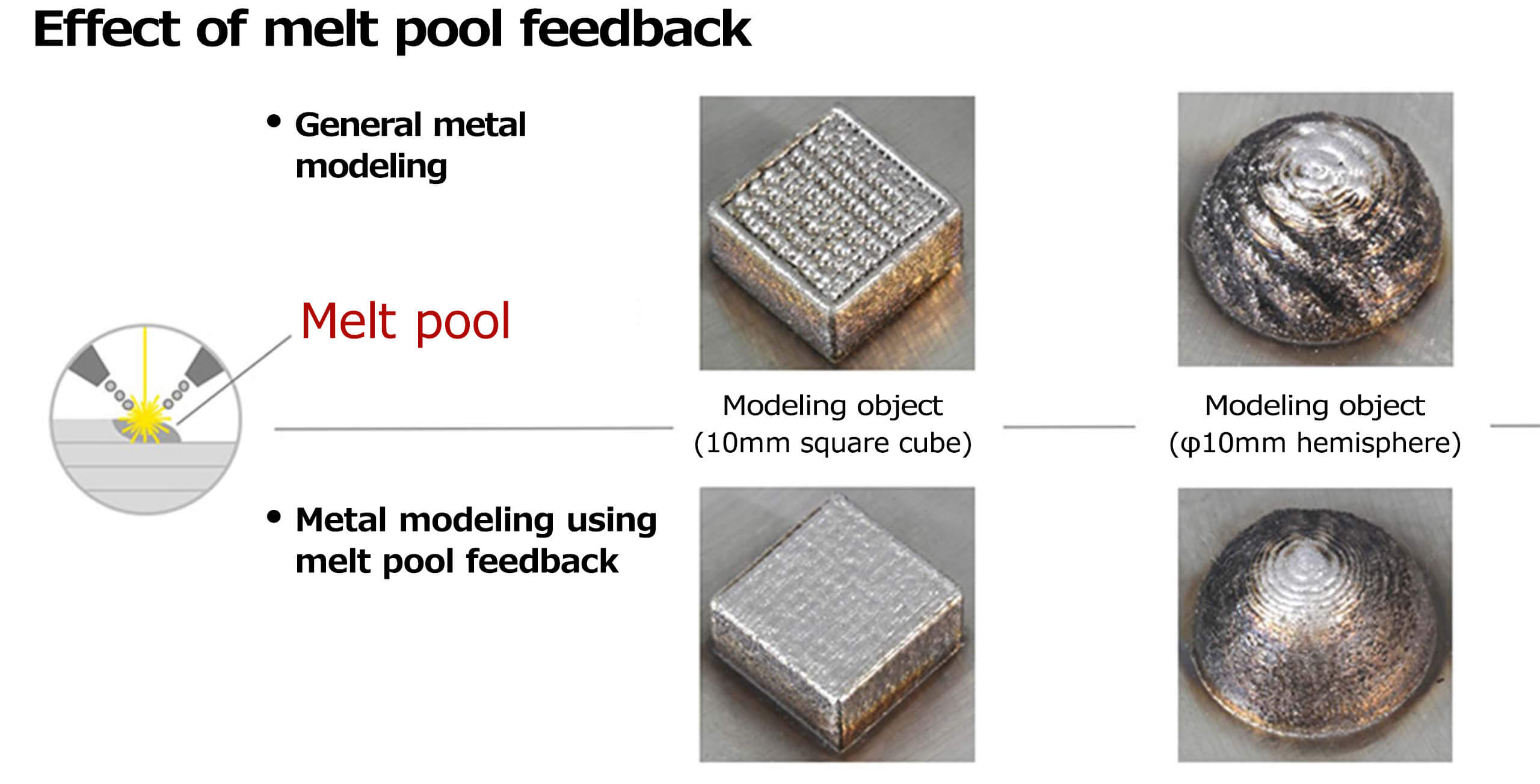 3. Reusable powder
The recycled powder can be used without affecting the manufacturing quality. The "powder supply feedback" function observes the powder at high speed and controls the powder supply operation, improving the modeling quality. This contributes towards reduction in production costs as well as to the environmental protection.
Main Specifications
| | |
| --- | --- |
| Dimensions (W x D x H) | 850 x 750 x 1750 mm |
| Weight | 330 kg |
| Rated voltage/frequency | AC 200 V single phase 2 wire system + protective earthing 50/60 Hz 2.0 kVA |
| Maximum processing range | Φ 150 mm x H:150 mm |
| Machine colors | 2 colors (white, black) |
| Powder for additive manufacturing | SUS specified by Nikon, High-speed steel, Ni-based alloy, Titanium alloy (Ti-6Al-4V) |
For more information
The information is current as of the date of publication. It is subject to change without notice.