AF-S DX Micro NIKKOR 85mm f/3.5G ED VR
October 14, 2009
Medium-telephoto Micro lens with VR enhances the enjoyment of macro photography
TOKYO — Nikon Corporation is pleased to announce the new AF-S DX Micro NIKKOR 85mm f/3.5G ED VR, a DX-format, medium-telephoto micro lens with built-in Vibration Reduction (VR II) and Silent Wave Motor (SWM). With a focal length of 85mm, this compact and lightweight lens is recommended for users of Nikon DX-format digital SLRs such as the D5000 and D90. The18°50'picture angle is equivalent to a focal length of 127.5mm in Nikon FX- and 35mm-format cameras).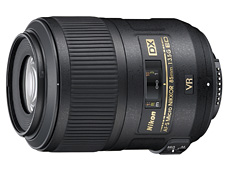 The AF-S DX Micro NIKKOR 85mm f/3.5G ED VR can be used in a wide range of applications. While users can enjoy the natural perspective and beautiful blur that a medium-telephoto lens can offer in landscapes and portraits, this micro lens is especially expected to promote the enjoyment of macro photography for taking insects, small animals and flowers. High resolving power is realized throughout the entire shooting range from infinity to the closest focusing distance (1:1 life size) to reproduce even the fine texture of flower petals.
Built-in VR II (Vibration Reduction) enables users to take sharp pictures at shutter speeds approximately four stops slower* than would otherwise be possible, thereby minimizing image blur caused by camera shake. This remarkably expands user freedom during hand-held shooting. In addition, blur-corrected image in the viewfinder makes focusing and composition easy.
*

As determined in Nikon performance tests
Built-in SWM (Silent Wave Motor) enables quiet AF operation, especially effective for the macro shooting of easily disturbed subjects such as insects and small animals. Internal Focusing (IF) system means the lens barrel length does not change during focusing, which ensures worry-free macro shooting. (Revised on October 16, 2009) M/A (manual-priority autofocus) mode enables instant switching from autofocus to manual focus by rotating the focus ring, even during AF servo operation. This permits fine focus adjustment without removing your eye from the viewfinder.
AF-S DX Micro NIKKOR 85mm f/3.5G ED VR Major Features
Medium-telephoto 85mm Micro lens (picture angle is equivalent to a focal length of 127.5mm in FX/35mm format)
Closest focusing distance of 0.286 m/0.9 ft. (life size)
The optical system featuring an ED (Extra-low Dispersion) glass element is optimized for DX-format digital SLRs
Vibration Reduction (VR II) enables sharper pictures while shooting at shutter speeds up to four stops slower than would otherwise be possible
Silent Wave Motor (SWM) ensures fast, quiet AF operation
Two focus modes available - M/A and M
IF (Internal Focusing) enables worry-free macro shooting with a constant lens barrel length (Revised on October 16, 2009)
The nine-blade rounded diaphragm opening gives out-of-focus elements a more natural appearance
AF-S DX Micro NIKKOR 85mm f/3.5G ED VR Specifications
Swipe horizontally to view full table.
| | |
| --- | --- |
| Focal length | 85mm |
| Maximum aperture | f/3.5 |
| Minimum aperture | f/32 |
| Lens construction | 14 elements in 10 groups (with one ED glass element) |
| Picture angle | 18°50' |
| Closest focusing distance | 0.286 m/0.9 ft. (life size) |
| No. of diaphragm blades | 9 (rounded) |
| Filter/attachment size | 52 mm |
| Diameter x length (extension from lens mount) | Approximately 73 x 98.5 mm/2.9 x 3.9 in. |
| Weight | Approximately 355 g/12.5 oz |
| Supplied accessories | 52 mm Snap-on Front Lens Cap LC-52, Rear Lens Cap LF-1, Bayonet Hood HB-37, Flexible Lens Pouch CL-1018 |
Specifications and equipment are subject to change without any notice or obligation on the part of the manufacturer.
The information is current as of the date of publication. It is subject to change without notice.
Share