Digital Compact Camera Nikon COOLPIX S8200
August 24, 2011
A high-performance model equipped with a backside illumination, 16.1-million pixel CMOS sensor , 14x optical zoom lens and Nikon's exclusive image analysis technology that enable capture of the perfect moment with superior image quality
TOKYO - Nikon Corporation is pleased to announce the release of the high-performance S8200, a COOLPIX S-series model equipped with a 14x optical zoom lens and incorporating advanced functions in a refined design.
The S8200 is the successor to the S8100, which was extremely well received as a high-power zoom camera. The S8200 is a high-spec compact digital camera equipped with a backside illumination CMOS image sensor offering an effective pixel count of 16.1-million pixels, and a 14x optical zoom lens that covers a broad range of focal lengths, beginning at the wide-angle 25 mm (equivalent in 35mm [135] format). Despite these incredible features, the S8200 is roughly the same size as its predecessor. In addition to new features such as Target finding AF, with which the user need simply point the camera at the intended subject and the camera automatically detects that subject and focuses on it, and Smile timer continuous, with which the camera automatically detects smiling faces and captures up to five shots at the moment the human subject smiles, the S8200 offers the functions and performance users have come to expect including continuous shooting, support for recording of full-HD movies and high-speed response. All of these features help to ensure certain capture of every photo opportunity that presents itself.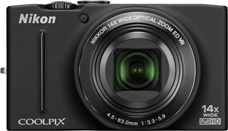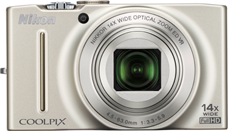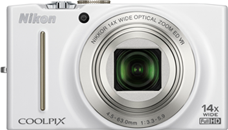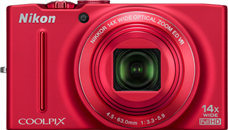 COOLPIX S8200 Primary Features
1. An effective pixel count of 16.1-million pixels and a 14x optical zoom NIKKOR lens with a zoom range beginning at the wide-angle 25 mm (equivalent in 35mm [135] format) for coverage of a broad range of angles of view
2. An extremely portable compact body despite its built-in 14x optical zoom lens
At roughly the same size as its predecessor, the S8100 (10x optical zoom), the S8200 is equipped with a 14x optical zoom lens that makes the most of the exclusive new, high-density slim lens barrel design. Adoption of a lens-shift vibration reduction (VR) function allows for improved zoom function and reduces the effects of camera shake for simpler capture of more beautiful images.
3. The new Target finding AF function allows the camera to automatically predict and focus on the intended subject
The new Target finding AF function, which uses Nikon's exclusive high-performance image analysis technology, has been adopted. Used for the first time in a Nikon compact digital camera, Target finding AF allows the user to simply point the camera in the direction of the intended subject and the camera immediately predicts that subject and then specifies the focus area and size for focusing. As the active focus area is automatically specified in accordance with the size of the subject, resulting images are in clear focus. In addition, Target finding AF not only works with subjects positioned at the center of the frame, but with off-center subjects as well. This capability is clearly exhibited with shooting of smaller subjects such as flowers, food and the like.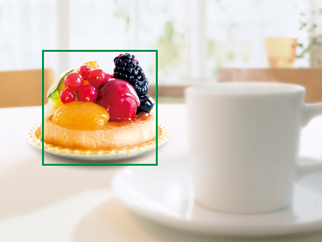 With previous nine-point Auto AF area mode, priority was given to subjects closer to the camera. With scenes like the one at left, this resulted in focus acquisition on coffee cup that were closer to the camera than the intended cake at the center of the frame. With Target finding AF, however, the camera automatically predicts that the cake is the intended subject and focuses on that cake, resulting in capture of the desired image.
4. High-speed response and continuous auto overlay function that make the most of the backside illumination CMOS image sensor capabilities
1. Nimble response that ensures certain capture of the perfect moment
With a power-up time of approximately 0.95 s, an autofocusing time of approximately 0.29 s, and a shooting time lag of roughly 0.35 s, the camera responds immediately not only to sudden photo opportunities but to moving subjects as well. In addition the zoom control offers two-stage zooming for fast zooming when rotated all the way in either direction and slower zooming needed to compose shots when rotated partially.
Power-up time measured according to CIPA guidelines.
Autofocusing time and shooting time lag measured according to Nikon standards: 25mm focal length (equivalent in 35mm [135] format), shooting distance of 2 m, ambient brightness of LV 10; images recorded to 4-GB Class 10 SDHC memory card
2. A number of continuous shooting functions that enable certain capture of the best shot
In addition to continuous shooting of up to five shots (with Continuous enabled) at the maximum image size of 16M at a rate of approximately 6 fps, additional options enable high-speed continuous shooting of up to 60 shots at shutter speeds of 1/125 s or faster (Continuous H: 120 fps), and automatic recording of up to five shots before the shutter-release button is fully pressed to enable capture of the perfect moment (Pre-shooting cache).
3. Smile timer continuous mode for certain capture of the perfect smile with automatic continuous shooting
The camera automatically recognizes the moment a human subject smiles and releases the shutter. Up to five shots are automatically captured with continuous shooting to ensure a shot with the perfect smile.
4. Night Portrait mode
Multiple shots of varying exposure for the background and the portrait subject are combined in a single photo with optimal exposure throughout. The portrait subject is brightly lit while the ambience of the background is preserved, enabling capture of beautiful souvenir photos of a night at the amusement park or at a dimly lit indoor party with friends.
5. Night landscape mode for beautiful photos with hand-held shooting
Images captured continuously at high speed with a low ISO sensitivity setting (for less noise) are combined and recorded as a single blur-free image with very little noise. This allows users to immediately capture beautiful night landscapes on the spur of the moment with hand-held shooting and no prior preparation.
6. Backlighting mode that prevents loss of detail in highlights and shadows
By combining two shots captured in quick succession at varying exposures, images exhibiting rich tones with no loss of detail in highlights or shadows are possible. This mode offers three levels of exposure deviation for use according to the degree of difference between bright and dark areas in the scene.
5. Shooting, playback and retouch functions that easily enable the creation of artistic works: Special effects, Filter effects, Easy panorama
Special effects are applied with shooting of still images or recording of movies to create delicate images or those with impact through the adjustment of colors and/or contrast prior to recording. Filter effects are easily applied to still images and movies that have already been recorded. The skillful use of these features according to desired intent, scene, etc. allows users to easily create artistic imaging works not previously possible.
Special Effects

Special effects can be applied prior to shooting, enabling users to capture photos with colors and tones that suit their intent. Soft, High key, Low key, Nostalgic sepia, High-contrast monochrome and Selective color options are available.

Filter Effects

Easily apply filter effects to photos already taken without using a computer. Cross screen, Fisheye, Miniature effect and Painting options are available.

Easy Panorama

With the S8200, it is easy to create dynamic vertical or horizontal panorama photos. Angle of view can be selected from 180° (normal) and 360° (wide). The user need simply move the camera in the desired direction using the guides displayed, and the camera automatically recognizes the direction in which shots should progress. Multiple shots are then combined in a single panorama photo.
6. HD movie recording with stereo sound and the ability to record still images during movie recording
(Revised on September 8, 2011)
High-quality recording of HD movies (1920 x 1080 pixels), even in dark surroundings, is possible. During movie recording, optical zoom can be used for flexible wide-angle and close-up recording. In addition, dramatic movies recorded using the HS Movie function can be played back in slow motion at 1/4 or 1/2 the normal playback speed, or in fast motion at twice the normal playback speed.
Nikon COOLPIX S8200 Specifications
Swipe horizontally to view full table.
Effective pixels
16.1million
Image sensor
1/2.3-in. type CMOS; total pixels: approx. 16.79 million
Lens
14x optical zoom, NIKKOR lens 4.5-63.0mm (angle of view equivalent to that of 25-350 mm lens in 35mm [135] format)
f/3.3-5.9; Digital zoom Up to 2x (angle of view equivalent to that of approx. 700 mm lens in 35mm [135] format)
Focus range(from lens)
[W]: Approx. 50 cm to ∞,
[T]: Approx. 1.0 m to ∞,
Macro mode: Approx. 1 cm to ∞ ( wider than Δ )
Monitor
7.5 cm (3-in.), approx. 921k-dot, wide viewing angle TFT LCD with anti-reflection coating and 5-level brightness adjustment
Storage media
Internal memory (approx. 89 MB), SD/SDHC/SDXC memory card
ISO sensitivity
ISO 100, 200, 400, 800, 1600, 3200
Auto (auto gain from ISO 100 to 1600)
Fixed range auto (ISO 100 to 400, ISO 100 to 800)
Interface
Hi-Speed USB
HDMI output
Can be selected from Auto, 480p, 720p, and 1080i
Power sources
One Rechargeable Li-ion Battery EN-EL12 (supplied)
AC Adapter EH-62F (available separately)
Battery life(EN-EL19)
Still pictures*1: Approx. 250 shots
Movies: Approx. 1h 10 min (HD 1080p★). (The maximum file size for a single movie is 4 GB and the maximum movie length for a single movie is 29 minutes, even when there is sufficient free space on the memory card for longer recording.)
Dimensions(WxHxD)
Approx. 103.7 x 59.3 x 32.7 mm
Weight
Approx. 213 g (including battery and SD memory card)
Supplied accessories*2
Camera Strap, Rechargeable Li-ion Battery EN-EL12, Charging AC Adapter EH-69P, USB Cable UC-E6, Audio Video Cable EG-CP16, ViewNX 2 CD-ROM
Unless otherwise stated, all figures are for a camera with a fully-charged Rechargeable Li-ion Battery EN-EL12 operated at an ambient temperature of 25 °C (77 °F).
*1

Based on Camera and Imaging Products Association (CIPA) standards for measuring the life of camera batteries.

*2

Supplied accessories may differ by country or area.
The information is current as of the date of publication. It is subject to change without notice.
Share