Nikon releases the Wireless Mobile Adapter WU-1a, which enables simple sharing of photos captured with a digital-SLR camera with smart devices
April 19, 2012
TOKYO - Nikon Corporation is pleased to announce the release of the Wireless Mobile Adapter WU-1a, which enables simple sharing of high-resolution photos captured with a digital-SLR camera with smart devices (Android).
The WU-1a was developed to respond to the needs of users looking for an easy way to share high-resolution photos with other devices or people. This new photographic accessory enables collaboration with the smartphones, tablets, and other smart devices that have become so popular in recent years. By simply connecting the WU-1a to the D3200 DX-format digital-SLR camera, released at the same time as the WU-1a and equipped with a new CMOS image sensor with an effective pixel count of 24.2-million pixels, images captured with the D3200 can be transferred to smart devices over a wireless connection, and the camera's live view display can be shown in the smart device screen for remote control over shooting.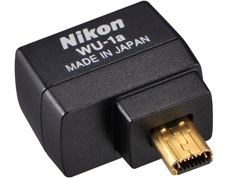 Nikon has equipped its digital-SLR cameras and NIKKOR lenses with a variety of advanced optical technologies, all developed and perfected with the work of many years. With the release of the new WU-1a, users can enjoy the beautiful images captured with Nikon digital-SLR cameras and NIKKOR lenses not only in the traditional ways of viewing in the camera monitor or on a computer, or by printing them out, but by connecting to a compatible wireless equipped smart device to transfer photos to family and friends, or upload them to blogs or social networking sites, regardless of the time or place.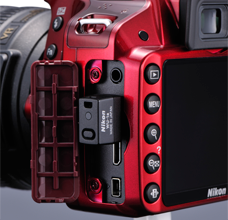 Initially, the WU-1a is compatible only with smart devices running the Android OS. However, additional support for iOS is scheduled for release this fall. Digital cameras and lenses are not simply tools for recording photos and movies. The images recorded with digital cameras and lenses also serve as tools for communicating with others. Nikon continues to work hard to develop and expand the ways in which people use and enjoy their photos and movies after they are recorded by developing its online photo storage and sharing service, my Picturetown, and by releasing this new wireless mobile adapter, which can be effectively used in a variety of places and situations.
Wireless Mobile Adapter WU-1a primary features
1.Function for transferring data to smart devices (Android) over a wireless connection
Images captured by the D3200, or already saved to a memory card inserted in the D3200, can be transferred to a smart device over a wireless connection. Transferred images can be viewed in the smart device display, or uploaded to a blog or social networking site to share beautiful photographs with a broader audience.
2.Remote shooting from a smart device (Android)
The camera's live view display is shown in the smart device screen, enabling remote control over shooting. The live view display shown in the smart device screen always shows the current view through the lens mounted on the camera (live view display), allowing users to accurately frame and predict results with remote control over shooting. Basic information, including the camera's battery indicator, whether or not an AC adapter is connected, and number of exposures remaining, as well as shooting information such as shutter speed, aperture setting, and focus points is displayed in the smart device screen.
*

The smart device must be equipped with a wireless communications function.

*

Smartphones running Android OS version 2.3 (Gingerbread) and tablets running Android OS version 3.x (Honeycomb) are supported.

*

The Wireless Mobile Adapter Utility app must be installed on the smart device before it can be used with the Wireless Mobile Adapter WU-1a connected to the D3200. The app can be downloaded free of charge from Google Play.
*

Google, Android, Google Play are trademark of Google Inc.

*

Products , brand names and service names are trademarks or registered trademarks of their respective companies.
The information is current as of the date of publication. It is subject to change without notice.
Share