Digital SLR camera Nikon D4S Receives EISA Award
August 20, 2014
TOKYO - Nikon Corporation is pleased to announce that its flagship Nikon FX-format digital SLR camera, the Nikon D4S, is the recipient of the European Professional DSLR Camera 2014-2015 award presented by the European Imaging and Sound Association (EISA).
The D4S has been recognized twice this year as it was also the recipient of the TIPA Awards 2014 Best Digital SLR Professional, presented by the Technical Image Press Association (TIPA) in May of this year.
The D4S is equipped with the new EXPEED 4 image-processing engine and a new FX-format CMOS sensor, which achieve an effective pixel count of 16.2-million pixels, and still images that exhibit stunning sharpness and enhanced depth. It also supports full-HD movie recording at a variety of frame rates, as well as a broad range of sensitivities with expansion that enables sensitivities as low as ISO 50 and as high as ISO 409600. In addition, the new Group-area AF brings the number of AF-area mode options to five, and collaboration with the high-speed continuous shooting function, which supports shooting at approximately 11 fps* with AF and AE tracking, maximizes AF performance.
*

Value with shooting in AF-C autofocus mode, [S] or [M] exposure mode, shutter speed of 1/250 s or faster, and all other settings at their default values.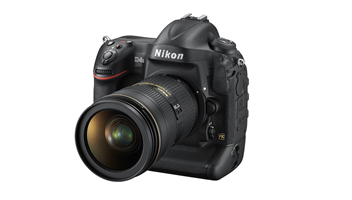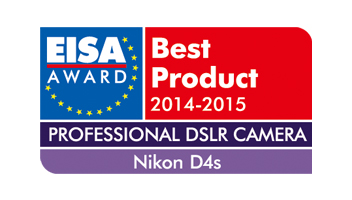 Reasons the D4S was selected as recipient of the EISA European Professional DSLR Camera 2014-2015 award (EISA comments)
"Launched two years after the Nikon D4, the Nikon D4S may look almost the same from the outside as the D4 but internally there have been many improvements. The new EXPEED 4 processor has enabled the introduction of a phenomenal ISO sensitivity range of up to ISO 409600, and an exceptional 11 frames per second with focus tracking. In addition, the improved 51-point autofocus and D-Movie functionality make the D4S much more usable than its predecessor. Overall, extensive testing by the EISA Expert Team has shown the Nikon D4S to be a worthy winner of the Professional DSLR Camera of the Year."
About the EISA awards
EISA is the unique association of roughly 50 major photo, video, audio, home theater, and mobile electronics magazines from 20 European countries. Each year, EISA chooses the best products released in Europe over the past year from a number of categories of imaging, audio and mobile devices.
The information is current as of the date of publication. It is subject to change without notice.
Share