Nikon Enters the Action Camera Market with 360° Offering
January 6, 2016
TOKYO - Nikon Corporation is pleased to announce its entry into the action camera market with the development of a lineup of action cameras that build on Nikon's technical excellence in optical and image-processing technologies.
The first in this lineup is the KeyMission 360 — a wearable action camera capable of recording true 360° video in 4K UHD. Bringing these different streams of highly relevant technology together in one camera brings an important and timely step-change to the market, which has had limitations in achieving true 360° video recording and making this widely available to consumers.
The KeyMission 360 features an image sensor and lens combination on two opposite sides of the camera, and images from each are combined in-camera to create a single realistic, high-definition, 360° image. The camera itself is waterproof to depths of 30 meters without a separate housing, and is also very tough, standing up well to dust, shocks and low temperatures. In addition, reliable electronic vibration reduction, enabled via applications during playback, reduces the effects of camera shake, producing sharp and crisp movie quality. It has been designed for a variety of challenging conditions typical of the action camera market, while ensuring maximum ease of use and freedom of movement to facilitate a wide spectrum of outdoor sporting and leisure activities.
Nikon will exhibit reference models for the KeyMission 360 at the Nikon booth at 2016 International CES, one of the world's largest consumer electronics shows, to be held January 6 (Wednesday) through January 9 (Saturday), 2016 in Las Vegas, Nevada.
The KeyMission 360 — the first of Nikon's range of action cameras — along with a variety of dedicated accessories, will be released in October, 2016. (As of April 20, 2016. Originally scheduled this spring.)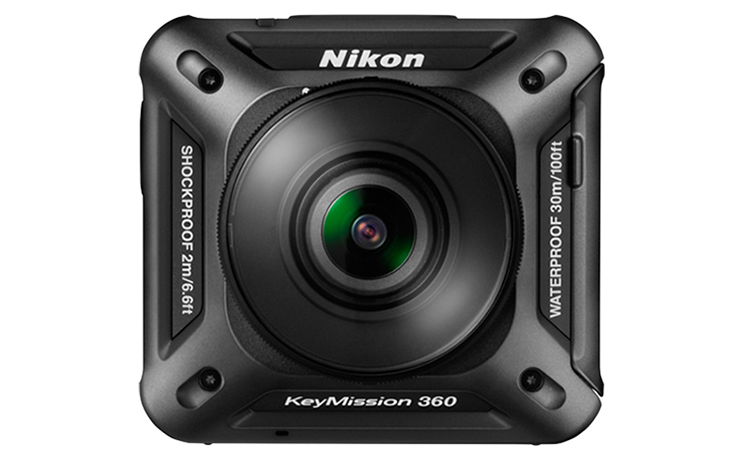 *

Specifications, design, product name and supplied accessories may differ by country or area. Specifications and equipment are subject to change without any notice or obligation on the part of the manufacture.
The information is current as of the date of publication. It is subject to change without notice.
Share