Release of the MAR-MC52A hollow-shaft multi-turn absolute encoder
Thinner Encoder for Improved Robotic Design Freedom
April 18, 2016
Nikon Corporation (Kazuo Ushida, President, Minato-ku, Tokyo) is pleased to announce the release of the MAR-MC52A, a hollow-shaft, multi-turn absolute encoder* with a 14.5 mm height designed for AC servomotor applications. It is ideal for industrial-use articulated robots, service robots and other robots that demand high resolution and high precision and also benefit from reduced installation space requirements. Outstanding 24-bit resolution enables high-precision control, and this new model comes in both ø15 mm and ø24 mm inner diameter sizes.
The encoder will be displayed at the upcoming TECHNO-FRONTIER 2016 (34th MOTORTECH JAPAN) at Makuhari Messe (Chiba City) from April 20 to 22.
*

A multi-turn absolute encoder is an encoder that is capable of detecting the absolute position of the current rotation position as well as the angle within each rotation. Origin return is not required at system startup and the accurate absolute position information for the encoder is readily available.
Product overview
| | |
| --- | --- |
| Name | MAR-MC52A hollow-shaft multi-turn absolute encoder |
| Price | Open price |
| Available from | April 20, 2016 |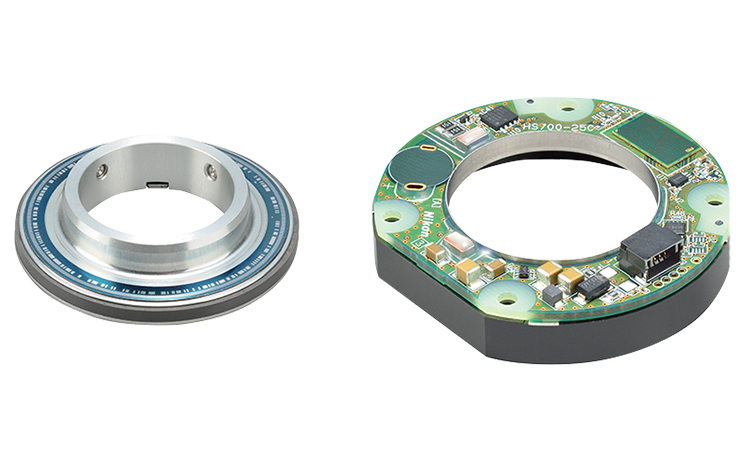 Key features
1. 14.5 mm height thanks to even thinner design
Compared with the former MAR-MC42A model, the MAR-MC52A boasts a 5.7 mm thinner design achieved through proprietary Nikon optical design technologies.
2. Two hollow-shaft types
As with previous models, this model comes in two inner diameter sizes: ø15 mm and ø24 mm.
3. Outstanding 24-bit resolution for each turn
Each turn features a maximum resolution of 24 bits (224: 16,777,216 positions/rev.). This enables precise positioning and contributes greatly toward more stable speed control.
4. Comes with A-format®* bidirectional full-serial communication
Comes equipped with A-format® bidirectional full-serial communication for two-way communication between the controller and encoder, enabling wiring to be reduced to four signal wires. Furthermore, the communication format is the same as that for previous models, thus increasing the range of motors available to customers.
*

A-format® is a registered trademark of the Nikon Corporation.
5. Guaranteed operation at temperatures of up to 95°C
Designed for use in even more severe operating conditions than previous models (up to 85°C with electric double-layer capacitor).
6. Maximum transmission speed of 16 Mbps (Optional)
The MAR-MC52A boasts transmission speeds of up to 16 Mbps, a significant improvement over the 4 Mbps maximum baud rate of the previous MAR-MC42A model.
Main specifications
Swipe horizontally to view full table.
Basic specifications
Resolution
Single turn
Multi turn
24 bits (16,777,216 positions/rev.)
16 bits (65,536 positions/rev.)
Responsive revolution speed
With mains power
6,000 min-1
With backup battery
6,000 min-1
Power-supply voltage
With mains power
DC 5 V
With backup battery
DC 3.6 V
Current usage
Normal operation
65 mA (TYP)
Using external battery
30 μA (TYP)
Operating temperature range
Without electric double layer capacitor
With electric double layer capacitor

-20°C to +95°C
-20°C to +85°C
Dimensions
External diameter
ø55 mm
Height
14.5 mm
Shaft internal diameter
ø15 mm / ø24 mm
Mechanical specifications
Moment of inertia for shaft
ø15 mm shaft
ø24 mm shaft

67.0x10-7 kg⋅m2
60.3x10-6 kg⋅m2
Allowed rotational angular velocity
1.0x105 rad/sec2
Swipe horizontally to view full table.
Communication specifications

| | |
| --- | --- |
| Transmission protocol | A-format® |
| Transmission standard | EIA standard RS-485 compliant |
| Transmission method | NRZ code half-duplex serial transmission |
| Baud rate | 2.5Mbps (with options: 4Mbps to 16Mbps) |
| Number of signal lines | 4 (with options: 6) |
| With optional bus connection | Supports encoders for up to 8 axes |
The information is current as of the date of publication. It is subject to change without notice.
Share