Nikon introduces the CNC Video Measuring System "NEXIV VMZ-H3030"
Highest precision of the Nikon NEXIV series
August 21, 2018
TOKYO - Nikon Corporation (Nikon) is pleased to announce the release of the CNC Video Measuring System, NEXIV VMZ-H3030, suitable for measuring precision samples, such as semiconductor packages, electronic parts, and machined parts.
Product Information
| | |
| --- | --- |
| Product Name | CNC Video Measuring System "NEXIV VMZ-H3030" |
| Availability | From October 1, 2018 |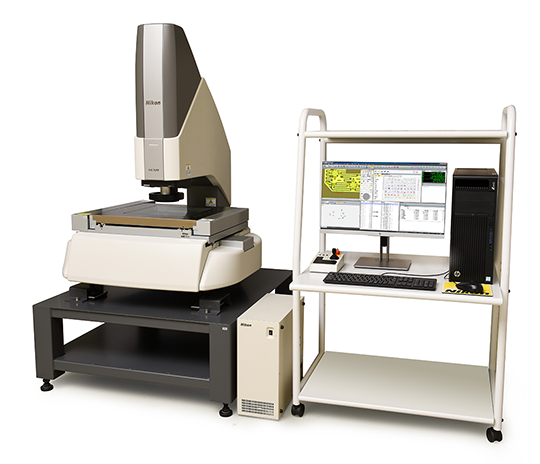 Product Development Background
Using Nikon's proprietary optical and image processing technology, the CNC video measuring systems "NEXIV series" automatically measure dimensions of various precision parts and electronic components. By analyzing acquired images and accurately detecting edges at high speed, the systems quickly measure samples with complicated shapes.
Utilizing the high build quality and functions of the existing NEXIV VMZ-R series, the NEXIV VMZ - H3030 provides greater precision, allowing Nikon to support measurement applications that require demanding quality control.
Key Features
1. Highly Accurate and Fast Measurements
Higher accuracy is achieved with the high precision linear encoder and motion stage. In addition, the fast image transfer speed (frame rate: 30 fps) and lighting control have accelerated overall measuring throughput.
2. Measurement Flexibility
With the high performance TTL* Laser Autofocus, transparent samples of 0.1mm thickness can be detected. Furthermore, the ring illumination's angle adjustment improves edge detection of complex shapes, responding to the measurement needs for samples such as machined parts, molding parts, high-density PCBs, and 300mm semiconductor wafers.
3. Advanced Operability and Software
Measurements can easily be done with fewer procedures to create teaching files, as well as utilizing comprehensive functions, including "customizable screen" and "offline teaching." Highly valuated "NEXIV VMZ-R series" software is available with the VMZ-H3030, making it possible to add functions suitable for the application, such as image synthesis and analysis and generating inspection reports.
Main Specifications
Swipe horizontally to view full table.
Stroke (X x Y x Z)
300 x 300 x 150 mm
Maximum permissible error
EUX, MPE, EUY, MPE: 0.6 + 2L/1000 μm
EUXY, MPE: 0.9 + 3L/1000 μm
EUZ, MPE: 0.9 + L/150 μm
Autofocus
TTL Laser AF, Image AF
Illumination
Diascopic, Episcopic: white LED
8-segment ring illuminator: white LED (3 incident angles)
Camera
B/W 1/3 CCD, Color 1/3 CCD

*

Color camera option is available only with Type 1, 2 and 3

Magnification and field of view
Type 1: 0.5 - 7.5x · 9.33 x 7.01 to 0.622 x 0.467 mm
Type 2: 1 - 15x · 4.67 x 3.5 to 0.311 x 0.233 mm
Type 3: 2 - 30x · 2.33 x 1.75 to 0.155 x 0.117 mm
Type 4: 4 - 60x · 1.165 x 0.875 to 0.078 x 0.058 mm
Type TZ: 1 - 120x · 4.67 x 3.5 to 0.039 x 0.029 mm
Maximum sample weight
30 kg (Accuracy guaranteed: 10 kg)
Dimensions
(W x D x H)
1000 x 1125 x 1750 mm
Weight
approx. 500 kg
Power source
AC 100 - 240 V ± 10%, 50/60 Hz
Power consumption
5 A - 2.5 A
The information is current as of the date of publication. It is subject to change without notice.
Share