Nikon receives 2 TIPA Awards 2010
The Nikon D3S digital-SLR camera
The AF-S NIKKOR 70-200mm f/2.8G ED VR II interchangeable lens for SLR cameras
April 27, 2010
Nikon Corporation (Michio Kariya, President) is pleased to announce that two of its products are recipients of coveted TIPA Awards for 2010. The Nikon D3S digital-SLR camera is the recipient of the TIPA Best D-SLR Professional Award and the AF-S NIKKOR 70-200mm f/2.8G ED VR II interchangeable lens for SLR cameras has been named the TIPA Best Professional Lens for 2010.
The best imaging products in a number of categories, released between April 1, 2009 and March 31, 2010, were selected for the TIPA Awards 2010 through voting by the editors of the 28 member photo magazines from nine European countries, Canada, the United States and South Africa.
The awards ceremony is scheduled to be held in September at Photokina 2010 in Cologne Germany.
Nikon D3S overview and reason for selection for the TIPA Best Digital SLR Professional Award 2010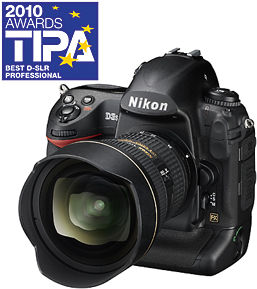 The D3S was released in November 2009 as the latest flagship model for Nikon FX-format digital SLR cameras. This camera is equipped with a new CMOS sensor (36.0 x 23.9 mm) developed by Nikon and supports standard sensitivity settings of ISO 200 to 12800. Sensitivity can be set as high as Hi 3 (ISO 102400 equivalent) or as low as Lo 1 (ISO 100 equivalent). The influence of noise has been minimized to enable shooting at high sensitivities under even extremely dim lighting. In addition, the D3S is equipped with the D-Movie function that includes high-sensitivity movie mode and movie editing functions for trimming footage or saving selected frames as JPEG stills. Naturally, the camera itself is representative of an all-round flagship model offering basic performance and operation that meet the strict demands (fast, support for high sensitivities, superior image quality) of professional and advanced amateur photographers in a number of fields, including the press, and sports and nature photography. What's more, the superior durability and reliability of the D3S has also been recognized by NASA, which ordered several models that are currently used aboard the International Space Station (ISS). The D3S cameras currently used in space are the same models available to consumers, with no special modifications or improvements.
Reason for selection
Taking up most of the functions that made the success of the Nikon D3, the D3S marks a milestone in the history of photography: it is indeed the first digital-SLR camera to sport the record "push" sensitivity of equivalent 102400 ISO. Superbly constructed, with an excellent viewfinder and a top-level autofocus system, it is ideal for digital SLR for the pros, in particular for reportage and sport photography.
AF-S NIKKOR 70-200mm f/2.8G ED VR II overview and reason for selection for the TIPA Best Professional Lens 2010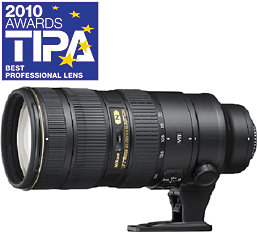 The AF-S NIKKOR 70-200mm f/2.8G ED VR II is a fast, high-performance lens, compatible with the Nikon FX format, which offers professional and amateur photographers the superior image quality they demand. Among its superior features are the Silent Wave Motor (SWM) that enables quiet autofocusing, Nano Crystal Coat for excellent ghost and flare suppression, Vibration Reduction II (VR II), which provides camera shake compensation equivalent to a four-step increase in shutter speed, and the addition of A/M (autofocus with manual override; AF priority) mode to conventional focus modes.
Reason for selection
The AF-S NIKKOR 70-200mm f/2.8G ED VR II telephoto zoom lens has been developed for use with digital and film based Nikon SLR cameras. A number of unique Nikon technologies have been adopted for this lens, including the use of seven ED glass elements, Nano Crystal Coat, a vibration reduction (VR II) system that provides camera shake compensation equivalent to increases in shutter speed by four steps, and a Silent Wave Motor (SWM).
Specifications and equipment are subject to change without any notice or obligation on the part of the manufacturer.
The information is current as of the date of publication. It is subject to change without notice.