Nikon Introduces New Digital Microscope ShuttlePix P-400R
September 13, 2010
Tokyo - Nikon Corporation (Makoto Kimura, President) is pleased to introduce a new concept in Digital Microscopy, ShuttlePix P-400R.
The ShuttlePix P-400R is based on a new shuttle concept* allowing much easier remote inspection for samples, an idea which originally was considered to be too difficult for large scale products. This will allow not only Industrial applications to be the target but also an effective solution for many other practical, imaging problems.
The ShuttlePix P-400R will be exhibited at "IMTS 2010" (September 13-18, Chicago McCormick Place) and "25th Japan International Machine Tool Fair" (October 28 - November 2, Tokyo Big Sight).
*

We can offer a style in which the P-400R can be used in a cordless way or as a system unit by adapting onto the Motorized Focusing Stand Controller.
Product Overview
| | |
| --- | --- |
| Product Name | Digital Microscope ShuttlePix P-400R |
| Availability | from November 10, 2010 |
*

Motorized Focusing Stand Controller (P-MFSC) from January 5, 2011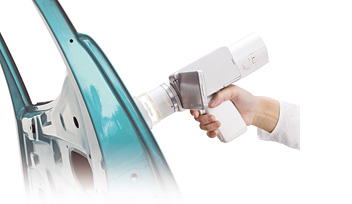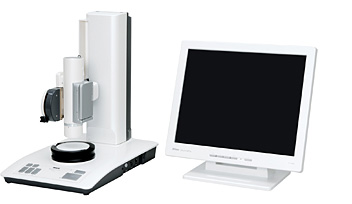 Development Background
In the past, microscopes were used to inspect numerous samples such as Electronic and, moulded parts, and all Industrial materials. However in recent years, there has been growing demand to inspect parts and assemblies from Automobile, Boat, Airplane for both engines and airframe, plant pipe line and structures, Art work Restoration and conservation requires fine image recording and inspection without moving the sample.
The ShuttlePix P-400R allows the observer to inspect in a conventional way but also record samples that are difficult or impossible to observe under a conventional microscope. An object can be inspected on site and in it's correct position without any risk of damaging it.
Main Features
1.

Shuttle Style


The ShuttlePix P-400R allows the removal from the Motorized Focusing Stand Controller providing the possibility to capture images under different conditions with cordless operation. By adapting the ShuttlePix P-400R onto the Motorized Focusing Stand Controller and in combination with the 17" touch panel monitor, image capturing can be easily completed.

2.

Easy Operation


The ShuttlePix P-400R allows for simple operation, just like a compact digital camera. For this reason, even without experience or knowledge on how to use a microscope, the observer can easily capture fine images of the sample.

3.

Wide 20x Optical Zoom Covering from Low to High Magnification


An LED illuminator is integrated with the ShuttlePix P-400R in a compact body with 20x Optical zoom lens. It is capable of observing a wide rage of magnifications between 20x-400x (*1) without the need to change a lens.

4.

Observation of All-in-Focus Image, 3D Image


By attaching the ShuttlePix P-400R onto the Motorized Focusing Stand Controller, all-in-focus images can be created easily using the control buttons. Then by using a dedicated Application software, the creation of reports and 3D image observation, measurement is possible.
*1

magnification on dedicated 17" Monitor
Digital Microscope P-400R Specifications
Magnification
20x-400x (magnification on dedicated 17" Monitor)
Optical zoom ratio 20:1
CCD
1/1.8" color CCD
Total pixels Approx. 2.11Mp
Effective pixels Approx. 1.98Mp
Storage format
TIFF, JPEG (Compressibility 3steps)
Storage media

SD/SDHC Memory Card

LCD Monitor
2.7" TFT LCD
Light source
White light LED
Capable of choosing 4 illumination directions
Actual FOV
Maximum diagonal field of view 20mm
Working Distance
29mm
Tool function
Scale display
Motorized Focusing Stand Controller / Touch Panel Monitor Specifications
Z axis stroke
150mm (Motorized control)
Maximum sample size

75mm(W)x50mm(D)x148mm(H)

*

Depends on combination with stage

Tool function
All-in-focus, Measurement, Grid indication, Scale indication, etc.
Storage media
USB memory
Display size Resolution
17" SXGA (1280x1024)
For more information
Healthcare Products & Solutions
The information is current as of the date of publication. It is subject to change without notice.