Nikon Introduces the PROSTAFF 3 Fieldscope – Lightweight and Compact for Easy Birdwatching
February 5, 2013
Nikon Vision Co., Ltd., a subsidiary of Nikon Corporation, is pleased to announce the release of the PROSTAFF 3, a lightweight and compact Fieldscope with an excellent portable design that facilitates relaxed, easy and agile birdwatching.
The PROSTAFF 3's predecessor is the Spotter XL II, a popular entry-model Fieldscope for nature observation activities such as birdwatching. The PROSTAFF 3 Fieldscope has the same bright and clear field of view of the earlier model, while its lightweight design further enhances usability. Its airtight, waterproof structure and shock-resistant rubber armoring ensure superbly reliable durability even under severe conditions.
The PROSTAFF 3 Fieldscope comes with a compact tripod and carrying case included, making it an even more convenient entry model for easy nature watching.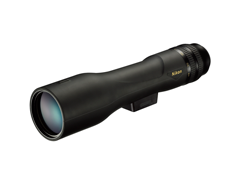 Key Features
Compact, lightweight and sleek design
All lenses and prisms are multilayer-coated for brighter images
16-48x zoom eyepiece integrated
Long eye relief (19mm at 16x)
Rubber armoring
Waterproof (up to 1m/3.3 ft. for 10 minutes) and fog-free with nitrogen gas
Comes with a compact tripod and a carrying case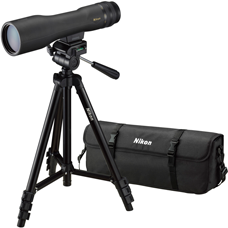 Specifications
| | PROSTAFF 3 Fieldscope |
| --- | --- |
| Magnification (x) | 16-48 |
| Objective diameter (mm) | 60 |
| Angular field of view (Real/degree) | 2.3* |
| Angular field of view (Apparent/degree)** | 35.6* |
| Field of view at 1,000m (m) | 40* |
| Exit pupil (mm) | 3.8* |
| Relative brightness | 14.4* |
| Eye relief (mm) | 19.0* |
| Close focusing distance (m) | 10.0 |
| Length x Width (mm) | 313 x 74 |
| Weight (g) | 620 |
*

When minimum magnification (16x) is selected.

**

The apparent field of view is calculated from the following formula based on ISO14132-1:2002
tan ω' = Γ x tan ω (Apparent field of view: 2ω',
Magnification: Γ, Real field of view: 2ω)
The information is current as of the date of publication. It is subject to change without notice.