The new CFI90 20XC Glyc objective for biological microscopes to support whole brain imaging
November 9, 2017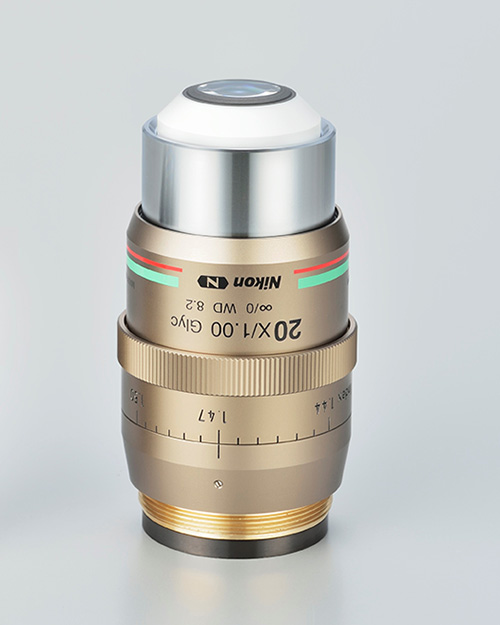 Nikon Corporation (Kazuo Ushida, President, Tokyo) is pleased to announce the release of a new objective for biological microscopes, the CFI90 20XC Glyc, designed for deep imaging of whole, cleared tissues such as the brains.
Nikon's new CFI90 20XC Glyc objective combines a large field-of-view, high numerical aperture and long working distance to provide bright, high-resolution images that support such cutting-edge neurobiological research as neural network mapping.
This product will be exhibited at the annual Society for Neuroscience meeting in Washington DC, held from November 11th to 15th.
Product information
| | |
| --- | --- |
| Product Name | CFI90 20XC Glyc objective for biological microscopes |
| Availability | From the end of November 2017 |
Product Concept
Biological research continues to accelerate at an incredible rate with cross-disciplinary collaborations, large-scale initiatives, and innovative technologies. With these advances, the demand for high resolution, deep-tissue imaging is rapidly increasing.
Nikon's new CFI90 20XC Glyc objective not only provides deep imaging capabilities at high resolutions, but its large field-of-view also improves throughput when imaging large tissue samples. A correction collar accommodates a wide range of refractive indices and a variety of immersion media and clearing agents. The CFI90 20XC Glyc objective also achieves a high degree of chromatic aberration correction and utilizes Nano Crystal Coat technology for high transmittance.
Main Features
1. Large field-of-view and high resolution
The CFI90 20XC Glyc objective achieves a unique parfocal distance of 90 mm, resulting in both a large field-of-view and high numerical aperture. This combination enables high-throughput imaging with exceptionally bright, high-resolution images.
2. Superior chromatic aberration correction and high transmittance
Chromatic aberration correction in the near-infrared range (700 nm to 1300 nm) accommodates multiphoton applications. In addition, the lens utilizes Nikon Nano Crystal Coat technology to provide high transmittance and superior signal collection from deep inside whole tissues.
3. Supports observation of large samples
An ultra-long working distance (WD) of 8.2 mm accommodates large samples such as whole brains.
4. Compatible with a wide range of tissue clearing agents with different refractive indices
The new objective is compatible with a wide range of immersion media and tissue clearing agents. The correction collar accommodates a broad range of refractive indices (1.44-1.50) and corrects spherical aberrations caused by observation depth and temperature changes to provide bright, clear images throughout the entire specimen.
Specifications
| | |
| --- | --- |
| Model name | CFI90 20XC Glyc |
| Magnification | 20X |
| Numerical aperture (NA) | 1.0 |
| Working distance (WD) | 8.2 mm |
| Parfocal distance | 90 mm |
| Correction ring | Provided (compensates for varying refractive indices of immersion media) |
| Compatible range of refraction indices | 1.44 - 1.50 |
| Compatible microscopes | Ni-E and FN1 upright microscopes |
Sample image acquired with the CFI90 20XC Glyc objective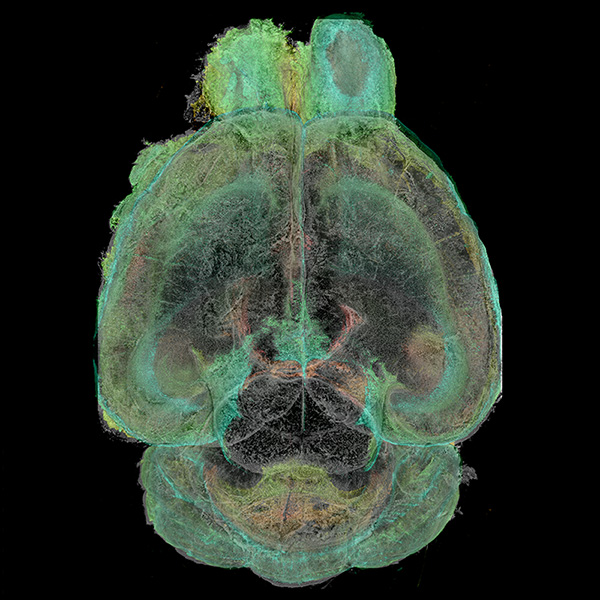 Stitched image captured with A1R MP+ Multiphoton Confocal Microscope and CFI90 20XC Glyc objective
Whole brain image (cleared with iCUBIC protocol) captured with transgenic mouse labeled with yellow fluorescent protein (YFP-H)
Photographed with the cooperation of Alan Watson PhD and Simon Watkins PhD, Center for Biologic Imaging, University of Pittsburgh
For more information
Healthcare Products & Solutions
The information is current as of the date of publication. It is subject to change without notice.