Announcement Regarding Construction Plan of New Head Office
November 4, 2021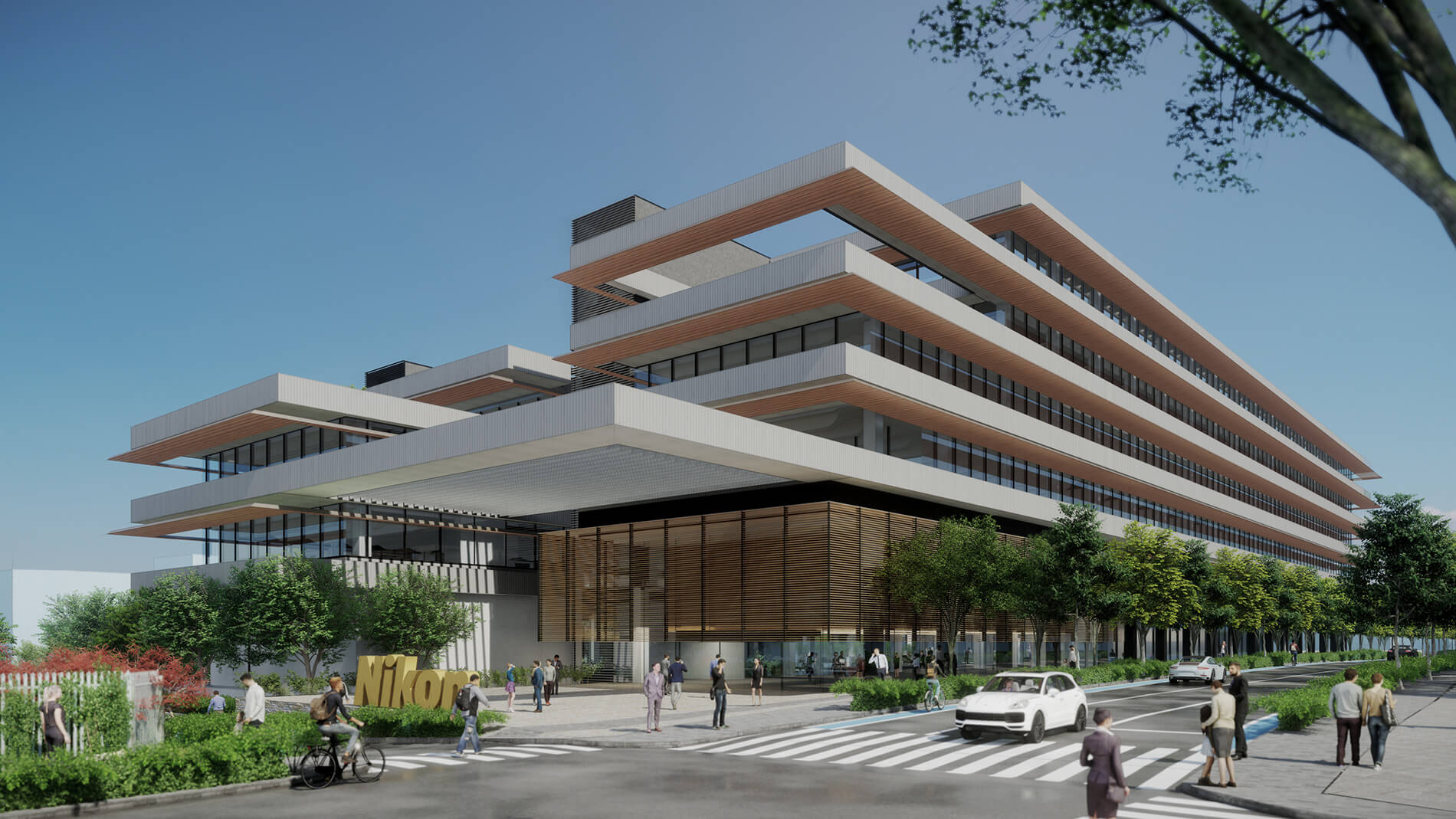 TOKYO - Nikon Corporation (Nikon) is pleased to announce the plan of constructing new head office in a vacant land on the premises of Oi Plant in Shinagawa-ku, Tokyo, and commenced specific consideration.
Nikon is establishing a growth foundation for the future. Aiming to strengthen development functions and create synergies between business units for sustainable growth by consolidating the corporate division, planning division of each business unit, and advanced R&D-related division into the new head office building that is currently under planning.
The new head office is expected to have 6 floors above ground and a total floor space of approximately 42,000m2. Aiming to create an office space that promotes digitalization and a workplace that supports flexible work styles.
It is also planned to be an environmentally friendly office building that is rooted in the local community with an emphasis on sustainability. Specifically, the building is designed with a solar shielding exterior facade system to reduce the energy required for air conditioning, as well as a structure that promotes natural ventilation and plentiful daylight into the space. In addition, the building will be equipped with a VAV*1 System that responds to the office utilization rate. The combination of these systems reduces significant amount of energy that building uses, and the new head office is expected to be certified with "ZEB Ready"*2. The building also plans to generate renewable energy through a solar power generation system.
The Nikon Museum, which displays the history, products, and technologies of each Nikon business will also be relocated to the new head office building.
The planned construction site, Oi Plant, is a place where Nikon has set up its base for over 100 years and has produced various products and services. Since Nikon's former company name was "Nippon Kogaku K.K.", the street that many employees commute became known as "Kogaku Street". We plan to construct a new head office on the location facing Kogaku Street.
Details will be announced as soon as it is decided.
*1

VAV: Variable Air Volume

*2

ZEB Ready: Net Zero Energy Building Ready. A building that realizes a comfortable environment while reducing 50% or more of energy consumption by saving energy compared to the energy required for ordinary buildings.
New Head Office Overview
| | |
| --- | --- |
| Planned Construction Site | 5480-1, Nishioi 1-chome, Shinagawa-ku, Tokyo, etc. |
| Site Area | Approx. 18,000 m2 |
| Total Floor Space | Approx. 42,000 m2 |
| Building Structure | Steel Construction、Base Seismic Isolation Structure |
Construction Schedule(Plan)
| | |
| --- | --- |
| Summer 2022 | Construction Starts |
| Spring 2024 | Construction Completes |
| Summer 2024 | Operation Starts |