Diversity and Inclusion
Materiality 8:
Relevant SDGs
Reason for Priority
Companies like Nikon that do business on a global scale work with employees who have a variety of social backgrounds and values. In order to make the most of these employees' individuality and to generate new innovation, we need to provide an attractive workplace of mutual respect for diversity, and where all employees can thrive professionally (diversity and inclusion).
Commitment
To realize the Vision 2030 as laid out in the Medium-Term Management Plan, and to sustainably increase corporate value, it is important that the Nikon Group permeate and entrench a corporate culture of respect for diversity, including of value systems, where each and every employee deepens their understanding and raises their awareness of diversity and inclusion.
Specifically, we will build an environment in which employees, regardless of age, gender, nationality, or other qualities, can elevate each other and fully demonstrate their capabilities. Here, we will also provide fair and impartial evaluation and treatment with emphasis on job performance, as well as support for career development toward self-fulfillment for our employees, among other things.
We will also adapt to changes in society and living situations, providing an environment enabling employees facing a variety of circumstances, such as disabilities or the need to provide childcare or long-term care, to fulfill their potential and play important roles.
Takumi Odajima
Representative Director and Executive Vice President
General Manager of Group Governance & Administration Division
Established DEI Policy
In April 2023, the Nikon Group established the "Nikon Global Diversity, Equity & Inclusion Policy" with the approval of Nikon's Board of Directors, which sets out a common global approach to diversity, equity & inclusion. We will utilize this policy to promote efforts to achieve DEI, and aim to contribute to foster a sustainable society where everyone can live a fulfilling life.
Main initiatives and results for the fiscal year ended March 2022
Encouraging Advancement of Women in the Workplace
At Nikon, we believe that promoting the advancement of women in the workplace is an important issue. Therefore, we have set the goals of increasing the ratio of female employees recruited through the regular annual recruitment process to at least 25%, and of increasing the ratio of female managers to at least 7.5% by March 31, 2023, and we have been taking systematic and sustained action to achieve these. More specifically, we provide women employees with support for autonomous career development by introducing role model employees, offering a mentor system, offering self-fulfillment training, and more. We have also made efforts to provide an environment that allows employees to choose flexible working styles in accordance with their life stage. In the fiscal year ended March 2022 the ratio of female employees recruited through the regular annual recruitment process was 31.2%, and as of March 31, 2022, the ratio of women in management positions was 7.2%.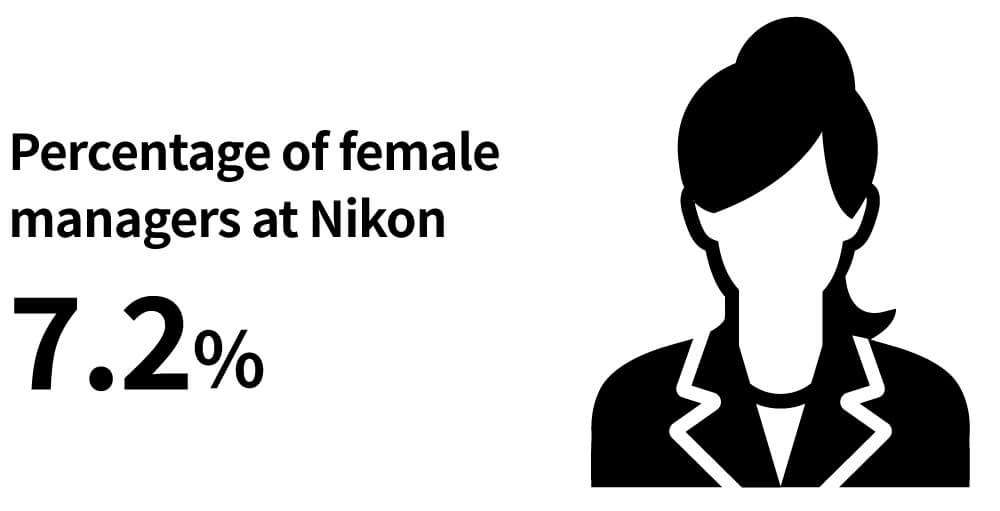 Initiatives for Human Resource Development
The Nikon Group offers training and educational programs linked with the role and the HR systems of the individual group companies. Nikon provides training and educational programs to support employees looking to enhance their own employability.
In the fiscal year ended March 2022, Nikon held a total of 397 employee training and education courses, organized by Human Resources Development Department. Courses were attended by a total of 8,218 employees. On average, Nikon employees spent 2.5 days per year undergoing training, and Nikon's expenditure on training per employee was 50,779 yen. Training participants are given a questionnaire (report) on their training course to complete, which is then used to assess the training curriculum and make continual improvements. Our target score for the overall evaluation in these questionnaires is four points or higher out of five, and the average in the fiscal year ended March 2022 was 4.25 points.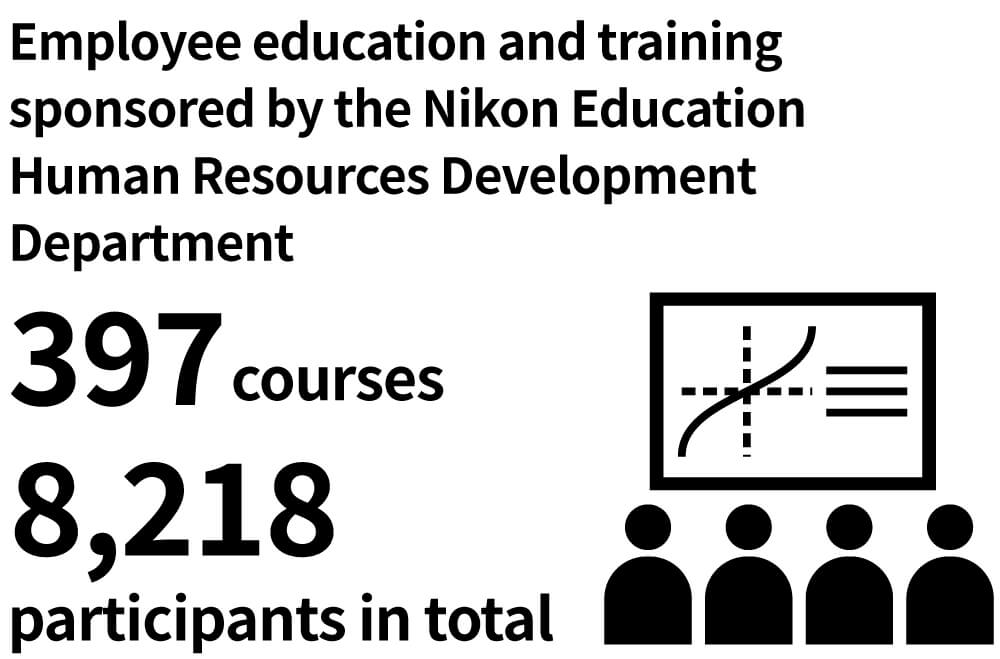 Sustainability Report
For more information, refer to Diversity & Inclusion in the Sustainability Report.
Promoting the Success of Diverse Employees
Basic Approach

Respect for Diversity

Creating an Employee-friendly Working Environment
Fair Treatment and Evaluation
Basic Approach on HR Management System

Nikon's HR Management System
Human Resource Development
Initiatives for Human Resource Development